Pit stop. For your classic Porsche.
Fascination and enthusiasm for Porsche vehicles have always been closely connected with the history of Porsche. This applies particularly to classic Porsche cars, and Porsche Centre Melbourne works passionately to supply spare parts for these cars, and in doing so, helps to ensure that they are preserved.

With the Porsche Classic Technical Certificate, Porsche Centre Melbourne offer the option to test historical Porsche vehicles (from the 356 to the Carrera GT) extensively, inspect them and provide the customers with historical information.
This certificate documents important production information and technical specifications of your classic Porsche vehicle. Your Porsche Classic Technical Certificate includes original vehicle data at the time it was delivered, such as date of production, the exterior and interior colour and material, and optional equipment. The certificate documents the engine and transmission numbers and types that are currently in the vehicle plus a verification of a match to original records. Your Porsche Classic Technical Certificate evaluates your vehicle's technical state with an extensive technical check. The evaluation includes inspection results for the exterior, interior, drive system, underbody and suspension. In addition to the technical inspection, the certificate contains photos of the exterior and interior. A detailed summary of your Porsche vehicle's inspection from the Porsche Classic-trained technician is also included in this document.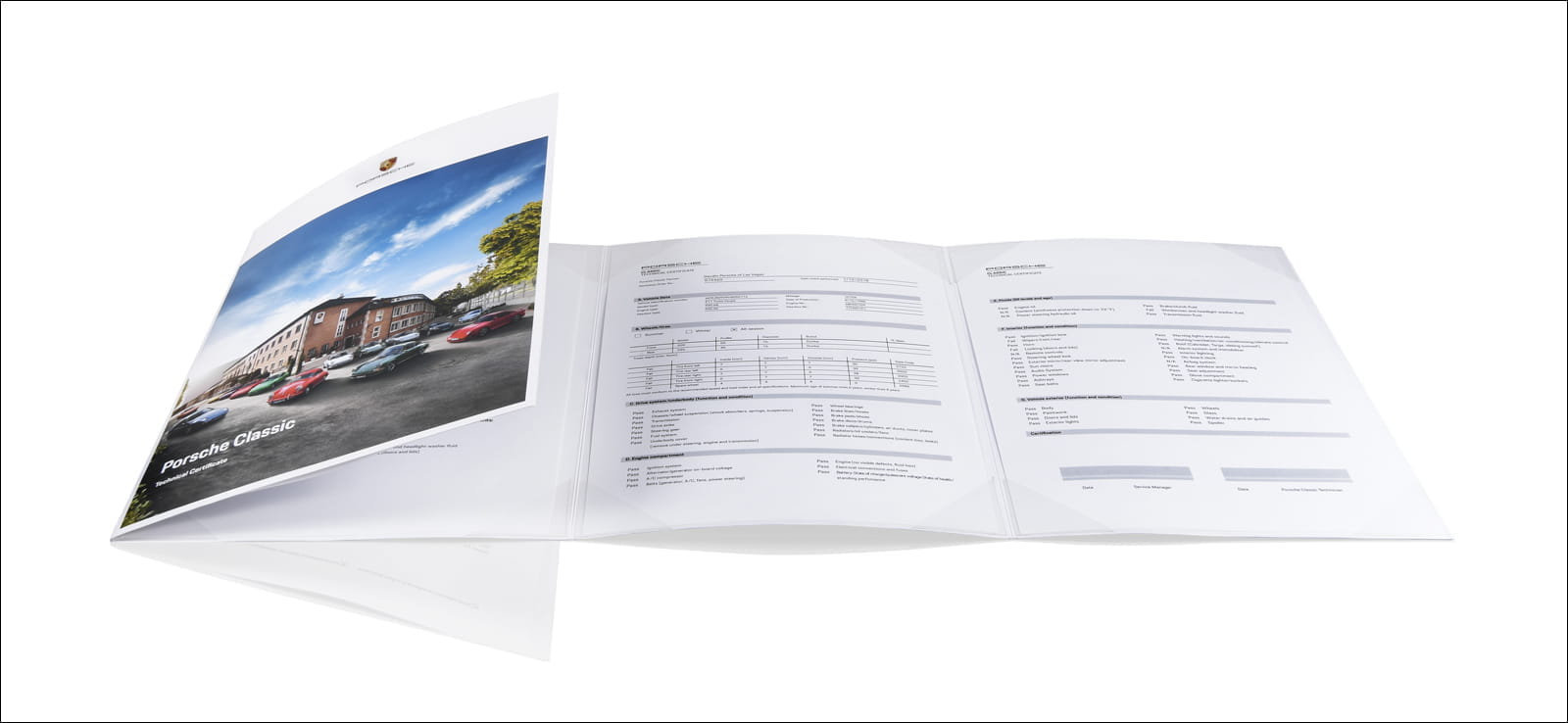 Why order the Porsche Classic Technical Certificate?

Your classic Porsche vehicle is a historic and original machine. Every classic vehicle has a unique Vehicle Identification Number (VIN), engine number, transmission number, and much more individualised information from the time of production. These pieces of information can say a lot about your vehicle and its history: When was it built? Where was it delivered to? Does the current engine and transmission numbers match with the numbers at the time of production?

It is possible over time that aggregates of a classic Porsche vehicle could have been replaced or the original information could have been lost. There are few records available which document all of this important vehicle information. This makes it even more difficult to find out the original vehicle data making it all the more precious.

With the collection and storage of the historic Porsche documents, Porsche Centre Melbourne is able to provide many pieces of original vehicle information about your classic Porsche vehicle. Therefore Porsche Centre Melbourne proudly offers the Porsche Classic Technical Certificate. This certificate is the only opportunity to get the original data of your classic vehicle and assures their accuracy. If required, your classic vehicle can be reconditioned to an excellent state by certified technicians at Porsche Centre Melbourne.

Last but not least, the Porsche Classic Technical Certificate includes an expert opinion from the Porsche Centre Melbourne, signed by the General Manager and Service Advisor. Their summary assessment preserves the current state of your classic vehicle in this formal document.

As you can see, there are many reasons to order a Porsche Classic Technical Certificate:


Validation of matching numbers at the time of delivery with the current data
Knowledge of how your classic Porsche vehicle was originally equipped
Helpful information for a restoration project
Providing the vehicle data when selling
Review of the vehicle data when purchasing
Assurance of all available information about your classic vehicle
Validation of your own researched classic vehicle information
To understand more history of your classic vehicle
To be aware of the current state of your classic vehicle
Professional pictures of your classic vehicle which document the vehicle condition
The opportunity to repair failed test points during the technical inspection
High-quality and clearly laid out folder which presents the results
Document which can be displayed at events
Personal conversation with your Porsche Classic Partner

What is included in the Porsche Classic Technical Certificate?

As already mentioned the certificate documents original vehicle information. You can see what it includes in the following listing:

1. The original vehicle information:


Vehicle Identification Number
Model Type
Date of Production
Delivery Point
Actual engine number and notation of matching or mismatching engine
Actual engine type and notation of matching or mismatching engine
Actual transmission number and notation of matching or mismatching transmission
Actual transmission type and notation of matching or mismatching transmission
Displacement
Exterior information
Interior information
Optional equipment
2. The technical check:


A list of test points, which failed to meet requirements during the technical check
Vehicle Data
Wheels / Tyres
Pass or Failure of Drive System and Underbody (function and condition)
Pass or Failure of Engine compartment
Pass or Failure of Fluids
Pass or Failure of Interior
Pass or Failure of Exterior
Eight pictures of your Classic vehicle
3. Expert opinion from your Porsche Classic Partner


Where can you get your technical certificate?

Exclusively from Porsche Centre Melbourne, Porsche Classic Partner. For more information contact our Porsche Classic team on (03) 9473 0917.

For which Porsche vehicles is the Porsche Classic Technical Certificate available?
The Porsche Classic range includes all historic vehicles which have not been produced in standard production for at least 10 years. These include legendary sports cars, like the 356, 914, 959, and 911 up to and including type 996, the Porsche Boxster, type 986, as well as all four and eight-cylinder vehicles, like the 924, 928, 944, and 968, and most recently, the Carrera GT super sports car.

Read more.

How much does the Porsche Classic Technical Certificate cost?

The Porsche Classic Technical Certificate is priced at $950.00 (inc GST).

Disclaimer

The certificate is prepared for you and must not be relied upon by others. However, you are free to provide the certificate to others for information purposes. The information in the certificate listing the original delivery state of vehicle will be researched to the best of our knowledge. Furthermore, the certificate contains no declaration concerning whether the vehicle is currently in its original delivery state. Changes to the vehicle performed after the technical check are subject to a further technical check. The document does not contain a recommendation to purchase the vehicle.