Week One: Tim in a Taycan

When the Taycan debuted last year it immediately set a new standard for luxury electric vehicles, claiming the top spot in Edmunds' Luxury EV rankings and winning the 2020 World Luxury Car award (as well as the 2020 World Performance Car).

As a proof of concept, it was a complete success. But as we all know, Alberta weather presents challenges that most Porsche drivers don't have to contend with. So, the question remained: can the Taycan handle tough Alberta winters? Is it possible to take the Taycan snowboarding and ice climbing and backcountry skiing?

Emphatically, yes. With ease.

To prove it to you, we've enlisted Tim Ricci, an internationally Certified Canadian Mountain Guide based out of Canmore, Alberta, for a 12-week adventure across Western Canada in the 2021 Porsche Taycan. A week in Tim's life is an entire year for most winter enthusiasts. If the Taycan can work for Tim, it can work for anybody.

We asked Tim to push the Taycan as hard—and, most importantly, as far—as it can go, through heavy snow, icy roads, and everything else Alberta can throw at it.
Week One: Backcountry Skiing




Purcell Mountains/Kootenay Pass
Distance Travelled: 1361 KM
Time Spent Charging: 435 Min
Cost of Charging: $65
Tim, with a fellow mountain guide, took a group of 12 on a 5-day backcountry ski trip to, first, the Purcell Mountains and, second, Kootenay Pass (with some skiing at Whitewater in between). He did the entire trip in the 2021 Taycan, which hauled not only his backcountry ski gear and overnight bags, but group equipment for his clients, avalanche gear, and even a guitar (because why not?).
It must be said: Tim was skeptical at the start of the trip. Could a Porsche hold up in harsh Alberta weather, let alone an electric Porsche? How would it handle the constantly changing road conditions? Would it feel claustrophobic, with all the gear in there? And if the car actually managed to make it to each destination, what would be the "time costs" of driving an EV through the mountains?
Day 1: Canmore to Golden to Cranbrook


A 400+ KM trip that cost nothing
The group's Day 1 adventure would be backcountry skiing in the Purcell Mountains, in southeast BC, a range that contains many high-altitude summits that reach over 10,000 feet. The Purcells are a haven for backcountry enthusiasts like Tim (and his crew), so the energy level on Day 1 was pretty high.
Tim eagerly loaded up the Taycan and left his native Canmore at 5 a.m, making his way to Golden, BC (about 160 km). Once there, he parked at the airport, met up with the rest of his team, and jumped in a helicopter.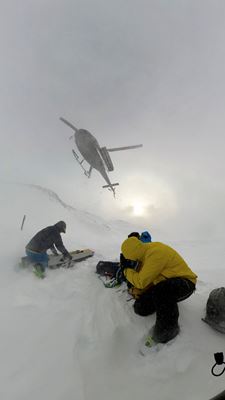 The zone that the crew decided to ski for the day is in a remote part of the Purcell's only accessible by helicopter that is home to some of the best skiing the region has to offer. The 12-man team had an epic backcountry day, to say the least, before helicoptering back to Golden in the early evening.
Once back in Golden, it was time for the first Taycan charge of the journey. One of Tim's worries at the outset was, naturally, about how possibly inconvenient the charging process would be: Were there enough charging stations around? Would they be located close to other amenities? Would they have to delay their trips to wait for the Taycan to charge?
What non-EV drivers might not be aware of is that there are already an outrageous number of charging stations across Canada and the United States. There are well over 11,000 chargers open to the public in Canada alone, at more than 5,000 stations. The Taycan has a built-in app that shows you every charging station you could ever need, so locating the next one—or plotting every charging spot along your route—is never an issue. It certainly wasn't for Tim.
There was a free BC Hydro/FLO charging station next to the restaurant they dined at that evening. So, all he had to do was charge up during the 45-minute meal, and he left Golden with a full battery. They headed to Cranbrook for the night (a 250 km trip), where he charged the Taycan again (also for free). After just 90 minutes of charging that night, he had a full battery once again to drive the 220+ km needed to make it to Nelson on Day.
DAY 1 TAYCAN STATS
Distance Travelled: 428 KM
Time Spent Charging: 135 min
Cost of Charging: $0
Day 2: Cranbrook to Salmo to Nelson
The Taycan is put to the test in rough winter conditions

Day 2 would involve another backcountry excursion, this time at the Stagleap Provincial Park in the Kootenay Pass. With an elevation of 1,760m, the Park is home to some of the best backcountry skiing Canada has to offer. But it can be treacherous getting there.
Nothing the Taycan couldn't handle.
The crew was up and out the door for 6 a.m. The driving conditions were especially challenging heading up to that elevation, as the area had seen nearly 50 cm of new snow in the days leading up to the trip. Tim was pleasantly surprised, though. "There was absolutely no concern with the charge of the car, nor the handling performance in adverse winter driving conditions. And the skiing was all time up there!" 50 cm of snow. Remote, icy conditions. Huge elevation. No problem for the Taycan.
After another great day on the slopes, Tim and company headed to Nelson for the night. The downtown charging station was conveniently located a block and a half away from their hotel. This one was the first pay charging station they encountered.
Tim plugged in for 75 minutes, for a total cost of $22.00.


DAY 2 TAYCAN STATS
Distance Travelled: 230 KM
Time Spent Charging: 75 min
Cost of Charging: $22.00
Day 3-4: Nelson to Salmo to Nelson
With charging stations galore, Tim was never inconvenienced

With such great skiing up in the Kootenay Pass, the crew decided to head back that way for Day 3. They departed at 7:30 a.m.
Tim reported that he'd encountered, "No issues whatsoever with the Taycan in terms of handling the weather, and by this point, my confidence had grown with every aspect of the vehicle." He went on to say that "Charging was an absolute non-issue, and the driving was a breeze, even through occasionally rough road conditions."
They had another amazing day of backcountry skiing, making memories to last a lifetime, before heading back down the Pass to Nelson for another night.
Tim plugged in at the same charging station for an hour, at a cost of $17.50.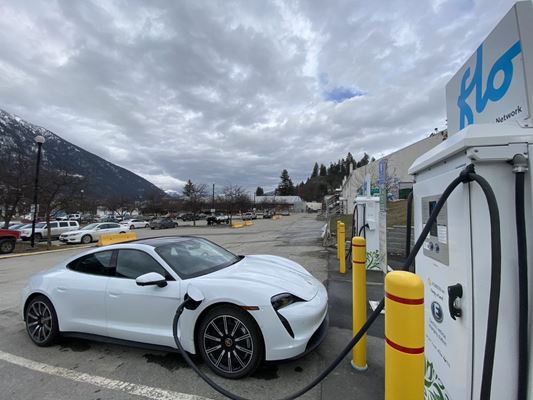 On Day 4, they stuck around in Nelson to enjoy the famed Whitewater Ski Resort. That morning, there was a rain event, followed by a quick cold snap, which made for freezing rain and slick driving conditions on route to the resort. To boot, the last couple of kilometres heading towards Whitewater is a dirt road. "Once again," Tim said, "I was taken aback by the performance of the vehicle and its ability to handle the changing conditions."
Another classic day in the books and they were back to town for the evening, to prepare for the long journey home the next day.


DAY 3-4 TAYCAN STATS
Distance Travelled: 155 KM
Time Spent Charging: 60 min
Cost of Charging: $17.50
Day 5: Nelson to Salmo to Creston to Radium to Canmore
Not just an urban commuter

They knew Day 5 was going to be a long journey home. More than 500 KM, in fact. The crew met up for a caffeine hit at 6 a.m., with the goal being another epic day of backcountry skiing at Kootenay Pass while en route home.
Tim charged the vehicle to 100% the night before and mapped out the journey to maximize battery power and to also time it with a great meal. They had an amazing ski tour and departed Kootenay Pass at 2:30 p.m.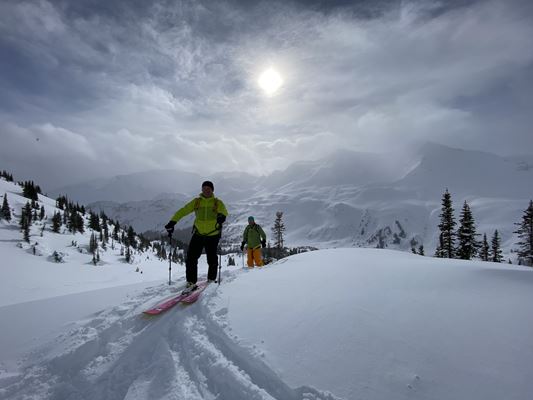 For the first charge of the day, they followed the Taycan's charge-finder app and headed to Creston, BC. They stopped for 30 minutes at a FLO charging station for a measly $8.50. They then hit the road, heading for Radium for the final charge and the home stretch.
Once in Radium, the Taycan charged for 75 minutes at another free BC Hydro/FLO charging station while the crew had a great meal together. Fully charged, they hit the road for the home stretch, with great memories and another amazing journey with some equally amazing people in tow.
"By the end of Week 1, I had full confidence in the vehicle. Not only from a charging perspective but driving daily in adverse conditions, too. It was critical that we were not delayed by charging or the vehicle's inability to handle tough mountain winter driving. Needless to say, the Taycan met and exceeded all the above."


DAY 5 TAYCAN STATS
Distance Travelled: 530 KM
Time Spent Charging: 165 min
Cost of Charging: $25.50
Interested in Test Driving the Porsche Taycan?
About Tim Ricci
Tim moved to the mountains over 20 years ago and has not looked back since. Tim is a fully certified Mountain Guide and holds Canadian Avalanche Association Level 3 and Society of Professional Rope Access Technicians (SPRAT) Level 3 certifications. Since September 2018 Tim has worked as Yamnuska Mountain Adventures Assistant Director of Operations. Located in Canmore, Alberta at the Banff National Park gates, Yamnuska is a premier provider of mountaineering, ice climbing, rock climbing, backcountry skiing, avalanche training and trekking experiences in the Canadian Rockies for over 40 years. Tim Resides in Canmore, AB, where he lives with his wife Wanessa and two kids, Ella and Miles.