Week Two: Tim in a Taycan

In week 1, I was surprised at how easy it was to keep the vehicle charged while driving more than 1300 KM through the Interior. In week 2, that got even easier once I installed a home charging system for the Porsche Taycan. Simply put, it's been a breeze (albeit a blistering one, thanks to this week's winter conditions).

I'm a Certified Canadian Mountain Guide based out of Canmore. If I hope to be successful during this 12-week mission to put the new Taycan to the test, then it's important that my home base be as set up as possible. As is typical of living in Canmore, my garage is packed full of gear instead of vehicles. That means the Taycan is always parked outside of my house, exposed to the environment. The charging station is installed close to the garage door and I have been exclusively charging from my home overnight. Yes, it's as easy as it sounds.

The simplicity of at-home charging, along with the integration of the app (that finds charging stations near me no matter where I go), makes driving the Taycan easy. In one word, it's a gamechanger! I haven't been to a gas station in weeks, and as of now, I have spent less than $150 on all my adventures.

With the home charging system in place, and the hundreds of charging stations across Alberta and BC, I'm already feeling like there are no limitations as to how far I can go.

This week saw another action-packed round of adventures. This time, in Field, BC.
Week Two: Playing the Field




From Canmore to Field (x3)
Distance Travelled Time Spent Charging Cost of Charging
485 KM 0 min on the road $0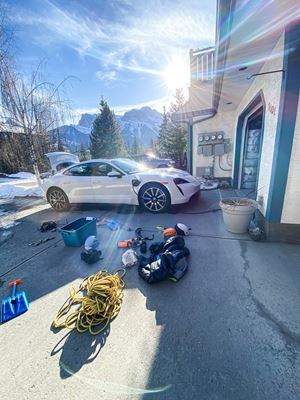 Day 1: Canmore to Field, BC/ Moirane Lake

Off to a Rocky Start
On Day 1, I left Canmore with a few of my fellow Yamnuska Mountain Guides and headed west towards the Carlsberg Pillar to do a social media photo shoot while ice climbing. The Pillar is a classic Grade 5 climb, one of the best ice climbing locations in Western Canada. It's an easy 105 KM trip from Canmore, and since we left at 5:30 am, it was smooth sailing pretty much the whole way there.
For us.
To get the best shots possible, the plan was to catch first light. First light is a gorgeous experience no matter where you are, but in Field, it's next level. The beauty in this area is one of the reasons why Field offers some of the world's best ice climbing and attracts ice climbers from all over the world on a yearly basis.
But just as we passed Banff on our way to Field, our photographer called. Due to a small rockslide on the opposite side of Kicking Horse Canyon, he was blocked and wouldn't be able to make it. Our shoot would have to be postponed. Day 1 ended up being the very definition of a rocky start. But them's the breaks, as they say. You don't get into this business for its predictability!
ighly caffeinated, I headed up towards Moraine Lake in Banff to catch first light and snap some photos on my own before returning to the office for the day.
DAY 1 TAYCAN STATS
Distance Travelled: 150 KM
Time Spent Charging: 0 min while on the road; charged at home overnight
Cost of Charging: $0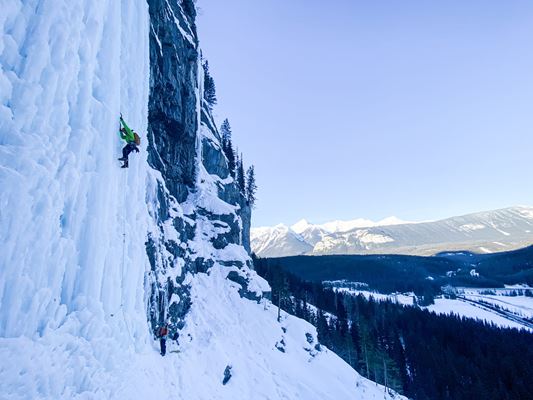 Day 2: Canmore to Field, BC
A full ski trip on a single charge
I fully charged the Taycan overnight at my house, so we were ready for better results on Day 2. Back to Field, for real this time! Not for climbing, though.
On this day, I was booked solid guiding a group of 8 clients for a full day of skiing. Having done most of the drive the previous day, I had no doubt that the Taycan could make it to Field and back on a single charge with more than enough km's to spare.
We met up at the parking lot in Field for 8 am. The weather was clear and cool, which is perfect for spring skiing. Mt. Field is one of the classic ski ascents of the Canadian Rockies, a roughly 16 km return with an elevation gain of 1300 m.
We found perfect conditions and managed to sneak an extra ski lap in for approximately 1500 m of vertical. Once back at the parking lot, we were hit with a spring squall. These are typical in the Canadian Rockies. They come in fast, pack a punch, and drop a lot of snow in a short amount of time. I was nervous. How would the Taycan—a fully electric luxury vehicle—handle that kind of weather?
Typically, this would be a white-knuckle drive all the way home. We're talking whiteout conditions the entire drive. I was blown away (in a figurative sense), since the Taycan handled the entire drive without issue. From the performance, to the handling, to the overall comfort level, I couldn't quite believe how well it handle adverse winter conditions. This is about as bad as it gets, and it tackled it all.
Once home, I plugged in, unpacked, and prepared to shift gears for a day of ice climbing the following day.
DAY 2 TAYCAN STATS
Distance Travelled: 225 KM
Time Spent Charging: 0 min while on the road; charged at home overnight
Cost of Charging: $0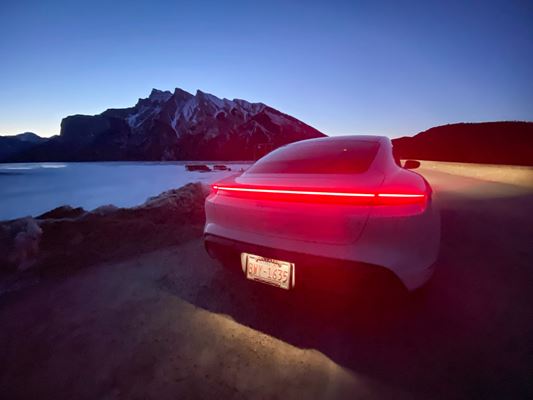 Day 3: Canmore to Field, BC

The Porsche Taycan vs Black Ice
🎵 Hi ho, hi ho, it's off to Field we go! 🎵
It was a bit of a common theme travelling to Field and back this week. After the squall from the previous day, it was a long drive back to Field on Day 3. The roads had numerous patches of black ice and there was loose snow everywhere. It all combined for some tricky driving.
The Taycan was glued to the road! This was a mulligan for Day 1, in order to get the photo shoot done. With the roads opened, we headed back to Carlsberg.
Carlsberg is on Mt. Stephen and, again, it's a classic Grade 5 ice climb. It has a quick approach and is roughly 200 m uphill from the road. The climb itself, if climbed to the top, is 150 m.
We captured what was needed and finished the day with a great meal in Field before heading back to Canmore. No charge necessary. The roads had dried out for the most part, and it ended with a beauty drive though the Canadian Rockies.
DAY 3 TAYCAN STATS
Distance Travelled: 210 KM
Time Spent Charging: 0 min while on the road; charged at home overnight
Cost of Charging: $0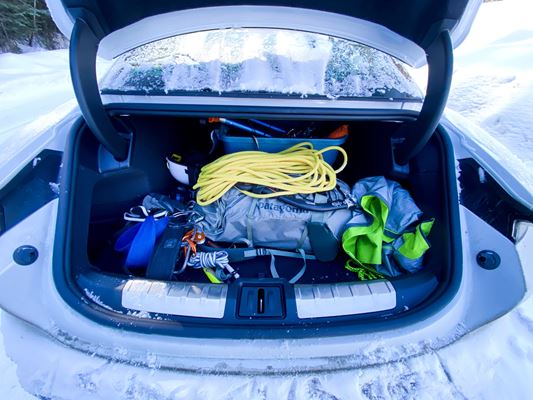 Interested in Test Driving the 2021 Taycan?
About Tim Ricci
Tim moved to the mountains over 20 years ago and has not looked back since. Tim is a fully certified Mountain Guide and holds Canadian Avalanche Association Level 3 and Society of Professional Rope Access Technicians (SPRAT) Level 3 certifications. Since September 2018 Tim has worked as Yamnuska Mountain Adventures Assistant Director of Operations. Located in Canmore, Alberta at the Banff National Park gates, Yamnuska is a premier provider of mountaineering, ice climbing, rock climbing, backcountry skiing, avalanche training and trekking experiences in the Canadian Rockies for over 40 years. Tim Resides in Canmore, AB, where he lives with his wife Wanessa and two kids, Ella and Miles
Date Posted: April 6, 2021