Pete Nguyen: The city is his canvas

Always with a new dream on his mind, Pete Nguyen was taught from a young age to go after his dreams and not let anything stand in his way of making them a reality.


A Dreamer from the Beginning

Pete Nguyen was born a dreamer. At an early age his parents left their friends and family in Vietnam and escaped to Canada with him. His parents were both creative people and encouraged him to be as well. He remembers it started with comic books. He loved reading them and one day his Dad suggested he draw his own and he went for it. Pete never thought this was something he couldn't achieve, which is a mindset he has continued to bring to each idea he wants to make a reality. Beginning in magazine development to becoming part-owner of Sea Change Brewing Co., Pete has had the opportunity to work with many other creatives and master his skills as an illustrator, painter, and artist. The individuals he's encountered along the way have provided mentorship in many areas he wanted to grow in.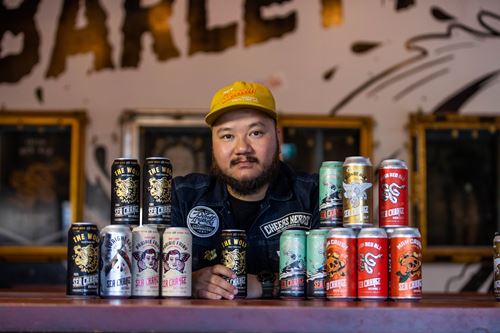 "Accomplishing a dream is a lot of hard work. You don't just dream it and it's real, you have to put in a ton of work and a ton of time to build it".
- Pete Nguyen
Worth the Risk
To him the risk is always worth it. When he envisions a new dream, he often thinks about his parents and how they risked everything to move across the world. They showed him that the best way to achieve your dream is to go for it by taking matters into your own hands. It's this attitude that has pushed him to dive headfirst into each dream he has and find a way to create it, regardless of what stands in his way. Today, Pete dreams of a world where creativity can thrive, and where roadblocks are removed from other artists success. He hopes to work with the community to find spaces for new artists to emerge and show off their talents, while bringing life and colour to the city. Accomplishing a dream is hard work and intimidating at times, but if you want that dream to come to life you must put in the work. "You can't rely on someone else to make your dreams come true. You need to convince someone to help you or learn that skill yourself".
Follow Pete and Sea Change Brewing Co. on Instagram: