Week Five: Tim in a Taycan




So far, through four weeks with the new Porsche Taycan, mountain guide Tim Ricci has put it through its paces. It's survived mountain temperatures, travelled thousands of kilometres, handled itself like a dream through stormy Alberta winter driving, and has been parked outside the entire time. After last week, Tim went on the record saying that the new Taycan "completely changed" his perception of what a daily winter vehicle can be.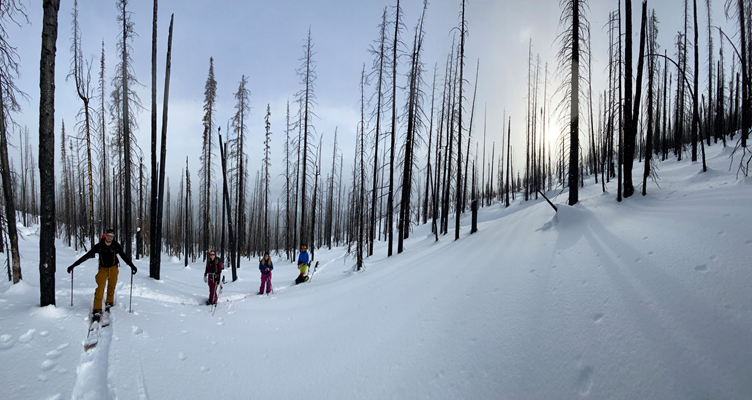 So, we thought we'd crank it up another notch for Week 5.

This time, we wanted Tim to leave the vehicle in one spot for multiple nights. Not just anywhere, either. Tim and company would be leaving the Taycan on the 93N highway in the Canadian Rockies to see how it would fare in such a harsh winter environment.
Meanwhile, Tim would head to the Wapta Ski Traverse with three of his more advanced clients.
The Wapta is a massive icefield about 120 KM from Tim's home in Canmore. It is several hundred kilometers squared. The two main icefields are the Wapta and Waputik. It has a series of four backcountry huts that you traverse between, with many classic ski mountaineering objectives along the way.
On this trip Tim and his clients would attempt to go from the Bow Hut to the Balfour Hut and finish with the Scott Duncan Hut before exiting back on the Trans Canada. The foursome would travel approximately 40km over 4 days with an elevation gain of around 1500m.
Days 1 & 2: Canmore to Bow Hut Bow Hut Approach to Mt. Olive
A 120km trip before 4 days in the mountains
To start Day 1, the group met up in Canmore at the head office Yamnuska Mountain Adventures, where Tim works as a certified Mountain Guide. After making sure they packed absolutely everything they might need for the five-day adventure—including food, glacier gear, and overnight kits—they took a look at the weather and avalanche conditions to see what they were in for: favorable conditions! The crew was eager to hit the road to Bow Lake, where they would leave their vehicles for the next five days.
Tim had fully charged the Taycan overnight, but admittedly, he was "curious to see what the end result would be in leaving the vehicle parked at Bow Lake." Overnight lows would be hitting about -20 during their trip, according to the forecast. Could a luxury vehicle—an electric luxury vehicle—withstand those conditions?
The crew made it into Bow Hut that morning and Tim parked the Taycan on the 93N highway with its battery at 62%. They went for a great ski run on the toe of the Wapta Glacier before returning to the Bow Hut for a delicious meal.
On Day 2 they attempted Mt. Gordon, but the weather had suddenly shifted, and they ended up in whiteout conditions. In the end, they adjusted course and went straight for Mt. Olive instead, a 6km return with an elevation gain of 770m.
Your legs started burning just reading that. Imagine actually doing it.
Once they summited, the crew headed back down to the comforts of the Bow Hut for another relaxing night.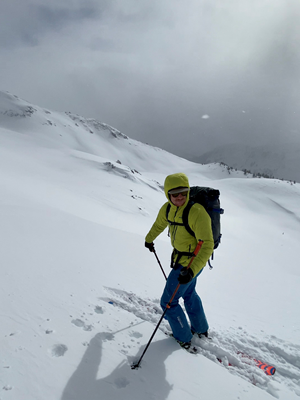 Days 3, 4, & 5
Two uneasy nights before the 120km journey home
Days three and four would prove challenging. Not just challenging, but "Wapta challenging."
The forecast was for increased snow amounts, with upwards of 40-60cm of new snow with strong winds. Needless to say, this is not ideal. It would make the avalanche danger too great to make it over the crux of the traverse, which is making to the Balfour High Col.
Nevertheless, they made it to the Balfour Hut on Day 3 and managed to catch a break in the weather. "We ended up getting a perfect four hours where the sun came out," Tim said, "with great powder snow to boot." They locked and loaded and headed up to the Diableret Glacier Col, where they were treated to a stunning view of the Yoho Valley before a great run back down to the Hut.
Within an hour of making it back, the next storm system had rolled in.
After a Night 3 in the hut, they decided not to head over the Balfour High Col. It was simply too dangerous. Instead, they retreated over to the Bow Hut side to ski back out to the road. They were "in the ping pong ball all day" and could barely see each other while ascending the Vulture Glacier. Thankfully, they made it back to the vehicles, safe and sound, with tired legs and hungry bellies. But with a story to tell about another classic ski traverse!
Now for the moment of truth.
Tim hopped back in the Taycan, unsure of what he'd find after four days in the mountains. He fired it up with absolutely no issues.
"But this is the crazy part," Tim said. "It had the same battery percentage—the exact same percentage—that I left it with: 62%."
There were no issues getting home on that charge, and when all was said and done the trip cost Tim a whopping $4.
"The Wapta is an amazing place and we are really lucky to have this venue in our backyard. On some trips the Wapta does not give itself up easy and this trip was no exception. But in the end, we're safe, we made lifelong memories, and once again the Taycan passed with flying colours."
About Tim Ricci
Tim moved to the mountains over 20 years ago and has not looked back since. Tim is a fully certified Mountain Guide and holds Canadian Avalanche Association Level 3 and Society of Professional Rope Access Technicians (SPRAT) Level 3 certifications. Since September 2018 Tim has worked as Yamnuska Mountain Adventures Assistant Director of Operations. Located in Canmore, Alberta at the Banff National Park gates, Yamnuska is a premier provider of mountaineering, ice climbing, rock climbing, backcountry skiing, avalanche training and trekking experiences in the Canadian Rockies for over 40 years. Tim Resides in Canmore, AB, where he lives with his wife Wanessa and two kids, Ella and Miles.