Week Six: Tim in a Taycan

This week, Tim Ricci—certified mountain guide with  Yamnuska  Mountain Adventures—took the new Porsche Taycan electric vehicle for a Rocky Mountain adventure with a client and friend:

Skiing Mt. Columbia in the Columbia Icefield. 

Together, the two friends have been skiing all across the Rockies over the past few years in an effort to hit as many 11,000 ft peaks as possible. These are the highest peaks in the Rockies, and they are some of the highest skiable areas in Canada.

Plus, they'rekind of beautiful … but only if you like huge landscapes, untouched powder, endless sunshine, and some of the most stunning vistas on Earth.
Skiing the Second Highest Peak in the Rockies
Mt. Columbia is, in fact, the second highest peak in the Canadian Rockies, with an elevation of 12,274 ft. To get there you need to drive to the Columbia Icefield first then head up the Athabasca Glacier to the Columbia Glacier. 
In order to make this trek in the Porsche Taycan, Tim and co. would need to do some careful planning in terms of charging the vehicle.  
To make it to the Icefields and back (to Canmore, AB, where Tim lives), they would need to charge in Lake Louise on the way home. This would mean that Tim would have to push the Taycan's range further than he ever had, right up to its peak range, in fact. But the reward was worth the risk!They set off with a full charge of 380km. To the Icefields, then back to Lake Louise, was going to be approximately 350km.
Once up on the Icefields, they ended up having the weather on their side for the first 48hrs.
"On day one, we set up camp and set our alarms for 3am so that we could maximize our attempt at Mt. Columbia.," Tim said. "On our summit day, we were off from camp for 3:30am, under an amazing show of stars. As day began to break, we were treated with a 5-star view of Columbia and a perfect bluebird day. We had ideal conditions to climb the mountain, and at 8am we were standing on the 2nd tallest peak in the Canadian Rockies."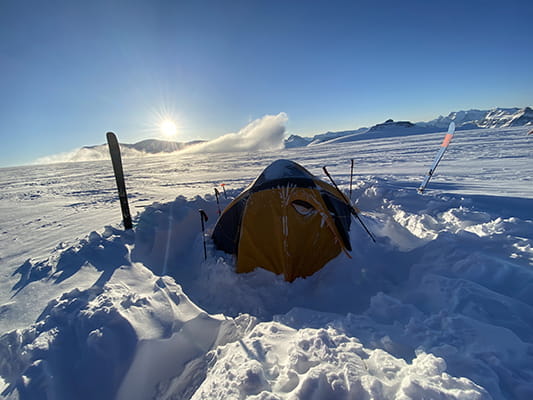 Four Peaks in Five Days
The next day would see the pair pinned down with weather, only leaving the tent to dig it out. That night the weather cleared, and they woke up to another clear day. However, a cold night meantthe temperature dropped to -22 degrees.
Before heading out, they summited two more 11,000 footers, Snowdome and Kitchener. Then, because they'd made great time, they managed to squeeze in one more before the end of the day: Mt. Hector. It was their fourth11,000 foot mountain in five days. 
They made it back to Lake Louise with just enough charge. No issues, no problems, all gravy.
"The Taycan is now just a part of my daily routine and something I do not even contemplate or think about anymore," Tim said. "It continues to exceed all my expectations and in less than three months I have put just over 5000km on it, while spending just a couple hundred dollars charging it. 
"Good times are always had by all when driving in the Taycan, no matter the objective or the conditions."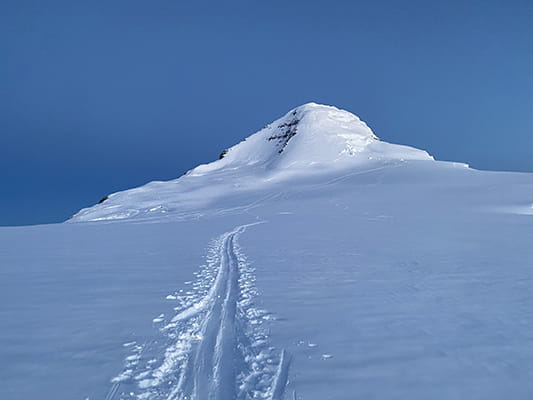 About Tim Ricci 
Tim moved to the mountains over 20 years ago and has not looked back since. Tim is a fully certified Mountain Guide and holds Canadian Avalanche Association Level 3 and Society of Professional Rope Access Technicians (SPRAT) Level 3 certifications. Since September 2018 Tim has worked as Yamnuska Mountain Adventures Assistant Director of Operations.  Located in Canmore, Alberta at the Banff National Park gates, Yamnuska is a premier provider of mountaineering, ice climbing, rock climbing, backcountry skiing, avalanche training and trekking experiences in the Canadian Rockies for over 40 years.  Tim Resides in Canmore, AB, where he lives with his wife Wanessa and two kids, Ella and Miles.