Week Four: Tim in a Taycan

"As someone who lives in the mountains," began Tim Ricci, a certified Mountain Guide from Canmore, AB, "someone who relies on his vehicle for work, I have always been pulled in the direction of a SUV or pick-up truck. After a month with the Taycan, that's completely changed."

For the past month, Tim has been driving the new 2021 Porsche Taycan, on loan from Porsche Centre Edmonton. Because most people don't believe that an electric vehicle – a luxury vehicle, at that – can thrive in the Rockies' harsh winter conditions, we've sent him on a 12-week adventure with the brand new Taycan to show everyone that it can't just survive, it can thrive.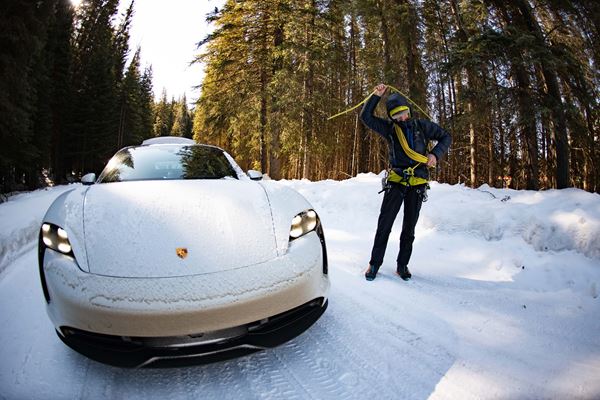 "It's completely changed my perception of what a daily winter vehicle can be."
Not only has the charging been a snap (he has a charged at his house and there are hundreds of charging stations all over AB and BC), but the biggest surprise might have been the cargo space.
"Nobody believed that this car was going to be able to haul everything I need it to. Not only has it been enough for my job as a mountain guide, but I've been using it to get my family around town."
As you can imagine, growing up in the mountains means Tim's whole family is into mountain sports. They have been throwing every scenario they can think of at the Taycan for the past four weeks and, so far, according to Tim, "it has exceeded all my expectations."
Here's what he got up to in Week 4.
Week Four: A Trek, a Chopper, and More Backcountry
Golden, BC
Adventure Distance Time Spent Charging Cost of Charging
600 KM Overnight $4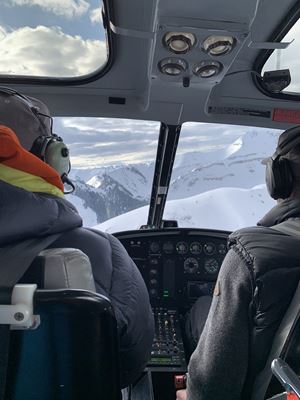 They decided to get one more day in the Purcell Mountains, where they could use a helicopter to get them into a remote location for some epic backcountry skiing. Having done the journey previously, from Canmore to Golden, during Week One of Tim in a Taycan, Tim knew they could rely on the EV to get them there and back with no issues whatsoever.
With this year's construction though Kicking Horse Canyon having already started, Tim and co. left early enough to get to Golden (from Canmore) by 7 am. And by "early enough" we mean the night before.
They stayed at a hotel near Golden that had easy access to a fast charging station (within walking distance of the hotel, in fact). To his surprise, though, the hotel itself had a charging station. He charged it—for free—overnight, and had a full charge to head for the helicopter the following morning.
Tim met up with his clients in the morning, and the skiing surpassed all our expectations, as it almost always does in the Purcell Mountains. "1500m of blower powder skiing," as Tim put it. They high fived the day away, and with nearly a full charge, the drive home to Canmore was a breeze.
Best of all, this trip cost less than $4.00 to charge, there and back.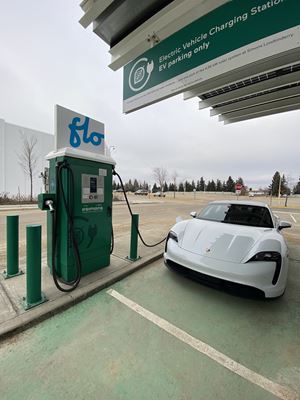 Interested in Test Driving the 2021 Taycan?
About Tim Ricci
Tim moved to the mountains over 20 years ago and has not looked back since. Tim is a fully certified Mountain Guide and holds Canadian Avalanche Association Level 3 and Society of Professional Rope Access Technicians (SPRAT) Level 3 certifications. Since September 2018 Tim has worked as Yamnuska Mountain Adventures Assistant Director of Operations. Located in Canmore, Alberta at the Banff National Park gates, Yamnuska is a premier provider of mountaineering, ice climbing, rock climbing, backcountry skiing, avalanche training and trekking experiences in the Canadian Rockies for over 40 years. Tim Resides in Canmore, AB, where he lives with his wife Wanessa and two kids, Ella and Miles.