Winter Driving in Edmonton

Canadian winters are relatively unmatched in their severity, and Edmonton drivers are forced to adapt in order to get where they need to go.
In 2017, there were over 20,000 weather-related crashes in Canada. By preparing, taking your time, and making some small changes to your driving habits, you can navigate your Porsche safely on the roads this winter.

Here are some valuable tips to help you drive with confidence this winter.

Take it slow.

As Porsche drivers, we know that this isn't exactly what you would like to hear. There's no harm in taking it a little slower when driving during the winter. An extra second of reaction time can prevent an accident.

Aside from not tailgating during the icy months, a useful trick is to accelerate and decelerate more slowly; trying to speed forward from a stop will cause your vehicle to skid. Slamming on the brakes will do the same. So it's important to slow things down.
Give yourself some extra time.

No matter how long it takes you to drive somewhere in the summer, add at least 10 or even 15 minutes to your trip for winter conditions. If your car is parked outside, you will need to account for the time it may take to clear snow and ice off your vehicle, and the fact that snowy and icy conditions demand that drivers slow down.
When we have to scrape the ice from our windshields, we might find ourselves running later than we would like. In an effort to make up lost time, you may be tempted to drive faster. In Edmonton, it's important to take the roads slow in the icy months.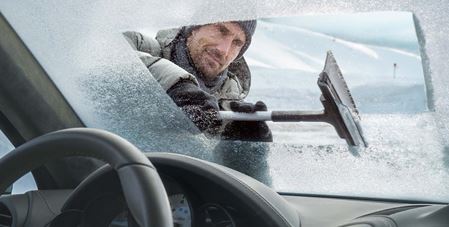 Winterize your Porsche.
Some drivers assume that winterization is limited to changing summer tires to winter tires. While winter tires are a factor in winterization, there are several important aspects to winterizing your Porsche. It's always best to visit a Porsche Certified Service Department, like the service department at Porsche Centre Edmonton, to ensure all factors are reviewed as we ride into winter. A proper winterization may include a tire changeover, installation of winter windshield wipers, a top-up on winter fluids, a battery health check, and more.
Some beasts don't hibernate. While some may park their Porsches for the winter, we want you to be able to enjoy the Porsche experience every month of the year. Set yourself up for a smoother ride this winter with a winterization appointment at Porsche Centre Edmonton. With our expert service technicians and Porsche Genuine Parts you'll be fully-equipped and prepped to conquer the snow, sleet, ice, and whatever else Edmonton throws at you this winter season.