From Paris to Dakar to British Columbia: An Appreciation for AWD Porsches

With Winter approaching the Lower Mainland and road conditions taking their seasonal adverse departure, now seems like a great time to express our appreciation for All-Wheel-Drive Porsches. Back in 2018, Porsche celebrated 30 years of AWD Porsches with the 30th anniversary of the 1988 964 911 Carrera 4. In 2022 we will also celebrate 20 years of Porsche Traction Management. First debuting in the 2003 955 Cayenne. So, for over three decades Porsche has provided the option of having four driven wheels. An option Canadians have gravitated towards as a solution for all season Porsche driving and enhanced performance. The last 30 years have been a constant process of evolution and refinement. To describe how a 1984 Paris-Dakar rally effort helped current 911's achieve sub 3 second zero-to-sixty times; some explanation is required.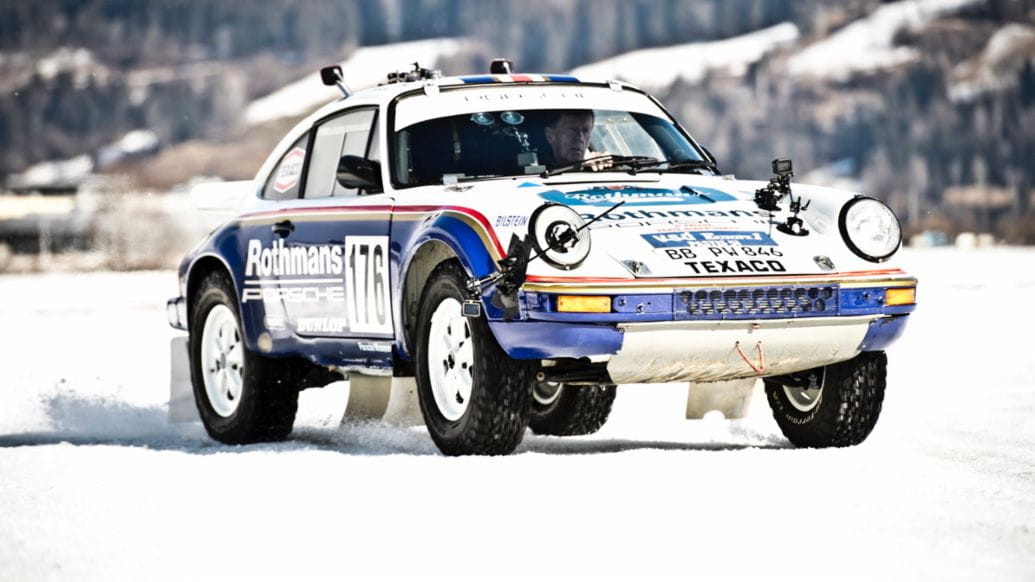 Like all legendary AWD systems, Porsche's system has its roots in rally racing. The first use of AWD on a Porsche vehicle was in the 1984 Paris to Dakar Rally when Walter Röhrl won the legendary event in his AWD Porsche 953. Porsche entered the event once again in 1985 and 1986 with the 959, and in 1988 the technology trickled down to a road going Porsche for the first time with the 964 Carrera 4. Compared to what we have today, this was a primitive AWD system. The 964 had a permanent system with a 69:31 rear to front mechanical power distribution. Cutting edge at the time was a traction control system which employed under 25kmh using the ABS wheel speed sensors to detect slippage and divert power to the wheels with traction. The 993 generation introduced the use of a passive viscous coupling. This may not sound exciting, but it is. This passive "hold-on" system had a 5:95 rear to front power distribution under normal circumstances. When differentials in speed were experienced between the front and rear axles (like during a hard launch), the fluid in the coupling would harden and grab the centre differential, engaging all four wheels for maximum traction. What this meant was an AWD car that behaved like a RWD car under normal conditions, but could find traction during low grip situations.
The debut of the 955 Cayenne in 2003 saw the introduction of Porsche Traction Management. PTM was a centre electronically controlled variable centre-differential, with a multi-plate clutch operated by an electric motor. To simplify, this new generation of Porsche AWD was able to vary the distribution of power according to the driving situation. PTM takes speed, lateral acceleration, steering angle, and accelerator control to calculate the correct amount of distribution. What this meant was an active system rather than the previous system which was passive. The AWD was actively engaged, and able to respond to losses in traction faster and more accurately. The 997 generation 911 Turbo saw an improvement to PTM with the addition of electronically controlled and magnetically actuated multi-plate clutch with ball ramp reinforcement. This system ditched the slower electric motor from the 955, and was capable of distributing power between the permanently driven rear axle and the front axle in a maximum of 100 milliseconds. This was the first use of PTM in a sports car, and it allowed for an even quicker and more accurate distribution of power.
Since the introduction of PTM. It has undergone constant refinement to increase the speed and accuracy of power distribution, as well as enhance driving dynamics. In 2013 the 991 generation Carrera 4 switched from the use of an electro-mechanical multi-plate clutch to an electro-hydraulic set-up. This helped provide even faster and more accurate responses to loss of traction. Incremental improvements have been made since 2013 to reduce the weight of the system, and minimise the sacrifice often perceived in choosing an AWD model of 911. This version of PTM has trickled down to the rest of the Porsche lineup, with the Cayenne, Macan, and Panamera utilising PTM.
Today, the positive effect of over 30 years of evolution and refinement benefits the entire Porsche marque. The Macan and Cayenne possess sports car-like driving dynamics thanks in part to this motorsports derived AWD system. The 992 911 Turbo S's ability to deliver eye-watering launches can be attributed to PTM's ability to find traction for all 640 of its horsepower. Lastly, each of these vehicles is more than capable of handling a BC winter with the correct set of winter tires. So what started as an attempt at the 1984 Paris to Dakar Rally, has led to us being able to enjoy our Porsches all year round in BC.
Written October 2021
Showroom is closed on Sunday and public holidays Service & Parts is closed on Sunday and public holidays