What's With All These Lifted Cayennes?

There is a new craze in the aftermarket Porsche world, and for the first time ever it is not about sports cars. Modified 955 and 957s (2003-2010) Cayennes have been popping up all over Instagram and our city streets. These older Porsche Cayennes are usually modified for off-road use or "overlanding", a style of off-road vehicle which places more emphasis on comfort than outright capability. These vehicles tend to focus on the outdoor lifestyle aspect of off-roading, sporting roof tents, integrated storage, and other accessories to make back-country travelling more comfortable. This trend of modifying Cayennes for off-road use coincides with the rise in popularity of off-road vehicles in general. Ford has revived their Bronco line of SUVs, Jeeps are as popular as ever, and Toyota 4Runners are almost unobtainable new. In some ways Porsche was ahead of this trend with the 957, but they have not reacted to this recent trend with any off-road focussed vehicle of their own.




As mentioned, Porsche was ahead of the trend on this overland vehicle craze. The 955 Cayenne was met by criticism from many purists who thought Porsche should stay true to their motorsports heritage and stick to making sports cars. As a rebuttal, Porsche entered their 955 Cayenne in one of the most gruelling motorsport events in the world, the Transsyberia Rally. This Rally took place in 2007, and 25 of the 34 vehicles that entered were Porsche Cayennes. These Cayennes were modified Cayenne S's that maintained the stock power unit but added a lift, off-road tires, a winch, roof lights, a snorkel, an exhaust, and the appropriate modifications for motorsports safety. The rally took place over 6600 kilometres from Moscow Russia to Ulaanbaatar Mongolia. One of these specially modified Cayennes won the race, and gave some credibility to the Cayenne as another Porsche vehicle rooted in motorsports. To celebrate this victory, Porsche built 600 957 Cayenne Transyberrias. These Cayennes contained the 4.8 litre V8 from the GTS in the S body, as well as enhanced and lifted air suspension, underbody protection, 18-inch alloys with high profile off-road tires, a locking rear differential, and some extra tow points.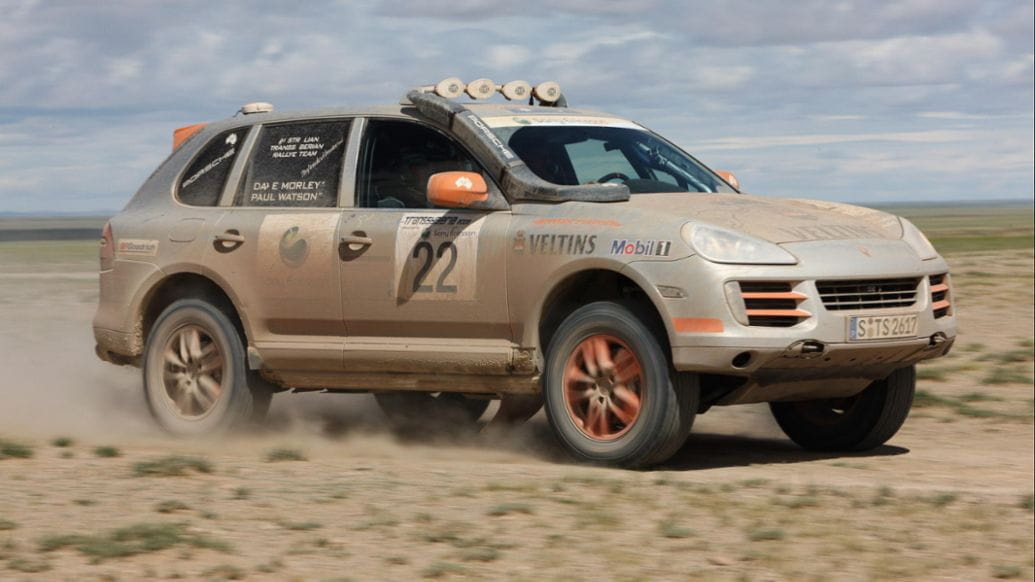 The 955 and 957 Cayennes were extremely capable out of the box, with a rigid unibody construction, and a sophisticated all wheel drive system with a low range and locking differentials - it didn't take much to make these Cayennes capable of tackling extreme off-road situations. The Transsyberia Cayennes were some of the rarest Porsches ever produced, and with such little modification needed to convert a regular Cayenne GTS to a similar specification, the aftermarket filled the void left by Porsches decision to make this a limited production vehicle. It has recently become very common to see all generations of Cayennes modified in a way that pays tribute to the original Transsyberia cars. These vehicles offer a perfect solution for the Porsche enthusiast looking to take their travels off-road. Where certain factory offerings leave the on-road manners of their off-road vehicles with something to be desired, slightly modified Cayennes maintain their on-road comfort and add off-road capability. Add the ability to mount a roof tent, integrated storage for food and gear, the underpinnings of an already capable all-wheel-drive vehicle, and a modified Cayenne becomes the best of both worlds in terms of an overlanding vehicle.
So the question is, should Porsche see this new trend and come to market with an off-road oriented Cayenne of their own? Porsche has previously answered aftermarket trends with vehicles of their own, so it is plausible that they could step in with a Cayenne that leaves the factory in an off-road specification. That being said, the Cayenne is very capable out of the box. With only a few steps needed to create your own Transsyberia tribute, they might just continue leaving this one to us.
Source: bringatrailer.com
Written December 2021
Showroom is closed on Sunday and public holidays Service & Parts is closed on Sunday and public holidays