72 Hours in the Porsche Macan
We gave a 2018 Porsche Macan to a 911 enthusiast for a Fall weekend. Here's what happened.
With the Cayenne, Macan, and even the Panamera, Porsche opened up their model range to a wider audience that might not have been interested in a purebred sportscar like the 911. Although all three models are a lot more family friendly, none of them has lost that unique Porsche DNA. To find out how a Macan compares to Porsche's ultimate sportscar, the 911, Porsche Centre Oakville gave one to keen Porsche enthusiast Jakob Pospieszynski.
Jakob is the founder of the YouTube Channel 911Percent (as well as his Instagram profile with the same handle). As the owner of a 993-gen as well as a 997-gen 911, he's also probably one of the best guys to talk to when it comes to Porsche sportscars. He's driven most 911 variants over the years, but has never been in a Macan before.
To give him a chance to experience the most compact SUV in the Porsche range, we gave him a base model Macan for a whole weekend.
Getting to Grips with the Macan
My current daily driver is a 2011 Carrera 4S, which is a vastly different beast than the Macan. Having driven Panameras and various Cayennes over the years, I've always compared them directly to the 911 even though they're anything but direct rivals. Compromise is the name of the game for me here. A true four- or even five-seater Porsche is always going to be more practical than a 911, but is it going to be as fun? Given how this is Porsche's smallest model and a base model at that, I was most worried about space and practicality, the one thing my 911 needs more of.
I have two little kids, aged 2 and 3. My wife has a big diesel SUV from another German manufacturer as a daily driver, which will hold child seats just fine, but the 911 is a different story. Not only can I only get one child seat in the back, but getting it in and out requires more effort. So most of the time I just leave it in.
Getting the seats in and out of the Macan, however, proved a far superior experience. I was pleasantly surprised with just how fast I swap them in and out. Using the Latch system is a breeze, so the whole installation took me a few minutes at most.
First Impressions
I got the car on Friday and decided to surprise the kids at daycare with the Macan. To say they were screaming with excitement would be an understatement. Once we loaded everything up, including all of the kids' bags and strollers, which fit inside the trunk with room to spare, we set off. The kids were laughing and giggling throughout the entire drive, but they seemed to love the panoramic roof more than anything else. It let a lot of sunlight in and gave them lots to look at.
When we got home, I removed the child seats so my wife could take her girlfriends out for dinner. Not only did the car cope extremely well with four adults, but it far exceeded her expectations. She was most impressed with the amount of visibility the Macan offers, especially the small quarter window in the front door. It doesn't seem like a lot at first, but after she mentioned it I did notice just how much it aided visibility. She also complimented how peppy it felt, but we'll get to that later on.
Into the Urban Jungle
As parents, Saturday mornings are really busy for us with plenty of activities. So the Macan was our vehicle of choice for the day. First I had to install the child seats, but unlike with the 911, I wasn't dreading the prospect. Again, it took mere minutes.
We took the kids to music and ballet as per usually, but followed that up with a trip to downtown Toronto to the Hummingbird Centre to go see the Wiggles in Concert. The kids absolutely lost their minds.
I found the Macan nimble and agile as I guided it down Toronto's crowded city streets and a busy parking lots. Its compact size means it can squeeze into practically any parking opening, and I did not have to worry about someone scratching it since it really isn't that wide. I had only driven it for a day and I was immediately comfortable behind the wheel.
Highway Time
As soon as I pulled out onto the Gardiner Expressway I learned that the Macan loves highway cruising. The drive proved be so serene that, after we'd all been thoroughly exercised by the Wiggles, both of my kids fell asleep in the back and my wife started nodding off as well. There's very little wind or road noise inside the cabin—I was genuinely shocked by how refined it feels. I would have expected it from a Panamera or a Cayenne, but from a Macan? Apparently so.
Making my job as driver easier was the Porsche Communication Management (PCM). I love that I can have a magnified view of the navigation system right in front of me without really having to take my eyes off the road and onto the dash. This isn't something exclusive to the Macan, but it works so well I had to mention it.
A Proper Porsche
Every fall, my family drives north to Caledon to a particular market where we get our Halloween pumpkins. I like to take the more scenic routes north to not only see all the wonderful fall colors but to also enjoy the corners and straights along the way.
These are the same roads I drive in my 911, so the little Macan was really getting put through its paces. I was restrained as my kids were with me, but that Porsche DNA was starting to peer through nonetheless. I had some reservations about the smaller 2-liter four-cylinder, but it pulls forcefully throughout the entire rev range. It's surprisingly rev-hungry for a turbocharged engine.
The engine makes 245 horsepower and 273 lb-ft of torque at just 1,600 rpm, so it's quick even by Porsche standards. It can hit 100 km/h in just 6.7 seconds (that's Golf GTI quick) and will top out at 225 km/h. I didn't experience any of this on a windy road for obvious reasons, but if anything the chassis felt even better than the engine.
It's got very little body roll despite the fact it's remarkably comfortable and manages to absorb most bumps without breaking a sweat. The chassis feels neutral, almost as if it's rear-wheel driven. I'm not for a moment suggesting it's as satisfying to drive as a 911, but for what it was designed for, it's spot on. You have to remember that this was the base model we were in as well. I can imagine the S and the GTS are even better in these regards. The Turbo version must feel insanely quick.
After a quick stop for a nature walk at the Forks of the Credit Provincial Park in Belfountain, we headed to the market. We were able to fit 8 pumpkins into the trunk and there was definitely space for more. The trunk itself is big, but if I had one criticism it would be the sloping roofline that limits you from stacking items and filling the trunk all the way up.
Tech Tester
On the drive back I wanted to try out all the different safety technologies, so I activated blind spot warning and lane departure. Needless to say, they worked like a charm. You turn them on and after a while you get so used to them you forget they're there. I loved everything there is about the cabin. The build quality, the materials, the way it feels like it will last forever… it just screams Porsche. I notice the same attention to details in my 997 and even the older 993, which is like brand-new despite being over 20 years old.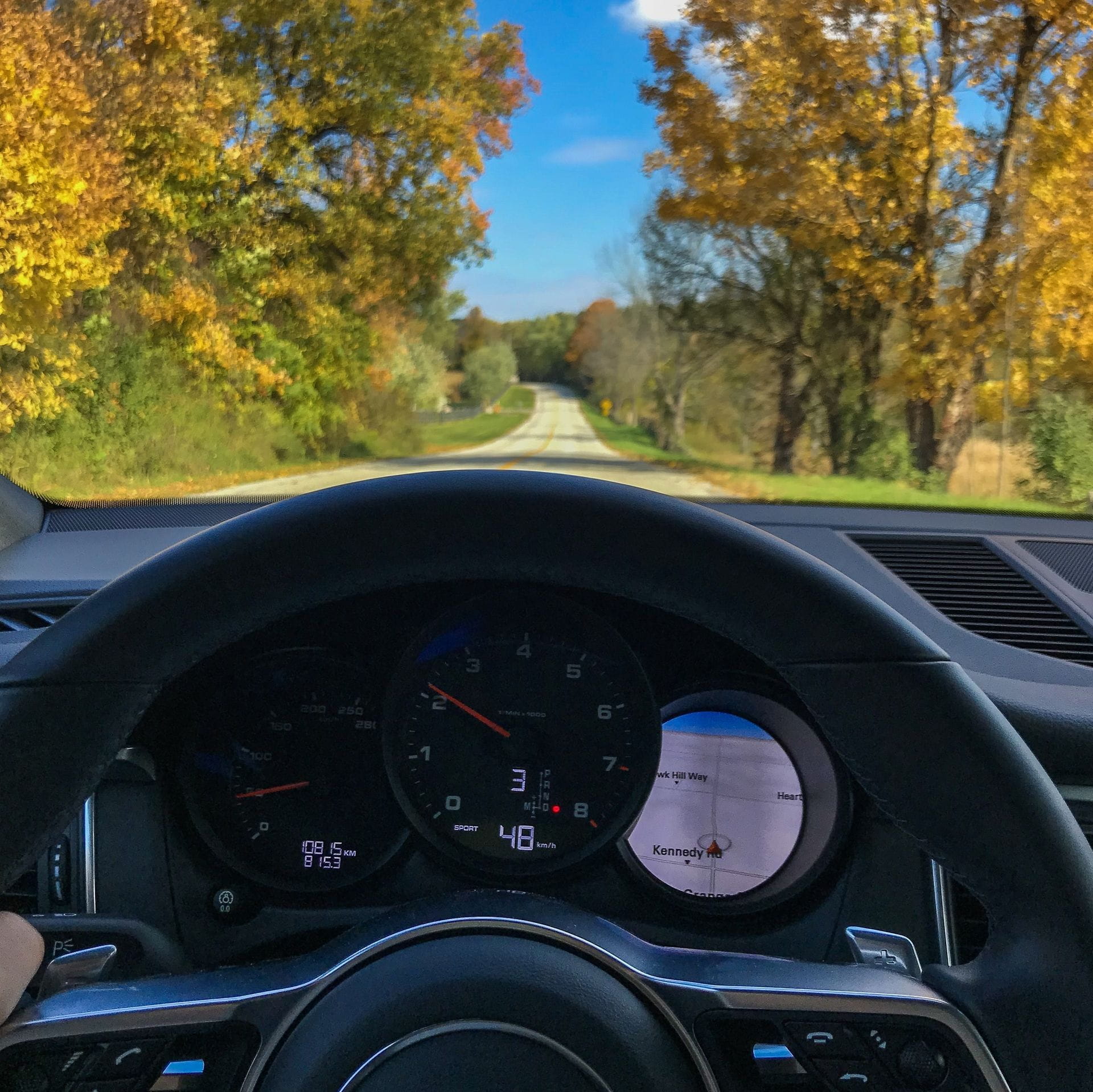 A Word on Efficiency
We returned home with half a tank of fuel left in the Macan. After all that driving I thought it would be running on fumes, but I one again underestimated the Macan. In all honesty, it's comparable to my wife's diesel SUV in terms of fuel efficiency, and way faster and more enjoyable to drive. It wasn't like I was trying to save fuel either, that's the most shocking thing. I was driving it pretty spiritedly on occasions, giving the accelerator pedal a good workout here and there to feel out the acceleration.
The Reluctant Return
Returning it on Monday, I couldn't help but feel slightly sad to see it go. Over the course of three days I bonded with this machine. It's a quality item through and through. I can see why people love these things. Anyone who says it isn't a real Porsche should have a go in one. It doesn't matter that it's got a four-cylinder engine, because the way it drives makes me feel the same emotions I get when driving the 911.
When we decide to replace our current diesel SUV, we'll definitely be looking into getting one of these. Just don't tell my 911s.
Date Posted: March 12, 2019