Celebrating 50 years of Porsche Design

Five decades have passed since Ferdinand Alexander Porsche founded the iconic Porsche Design brand. To celebrate the milestone anniversary and the legacy of the design studio's works over the past half-century, Porsche has released two exclusively-designed models, the 911 Edition 50Y Porsche Design and a refurbished 1972 911 S 2.4 Targa.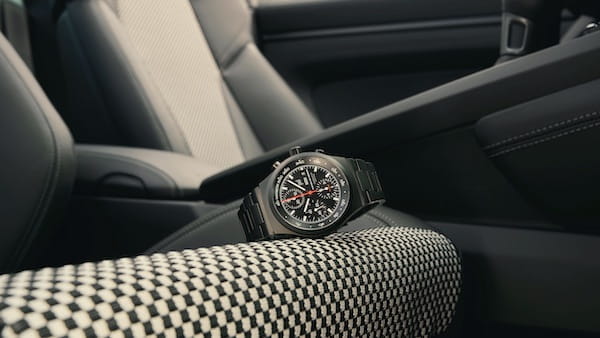 At the core of celebration is the Chronograph I, the first timepiece ever designed by F.A. Porsche in 1972. The two exclusive anniversary vehicles embody the spirit and elegance of the now iconic watch, with its unmistakable all-black features inspiring both the interior and exterior appearance of the limited-edition 911 and the Targa.
The nature of the two vehicle's release perfectly captures the 50-year legacy of the luxury design brand. The 911 S 2.4 Targa is the culmination of a two year project undertaken by Porsche Classic to reinvigorate a base model 911 T 2.4 Targa from 1972, the same year Porsche Design was incorporated.
"The vision was to produce a historical counterpart to the new 911 Edition 50Y Porsche Design," Ulrike Lutz, Head of Porsche Classic, said in a release. "With the aid of the new Sonderwunsch (special wishes) programme, we were able to implement the idea of a unique pair of vehicles. The job of the designers and works restorers was to carefully transfer the specifications of the new car to the classic."
Over the course of the build, Porsche engineers improved the engine and chassis system to that of an S spec model, with mechanical fuel injection, outputting 2,341 cc, which generates 190 PS at 6,500 rpm.
The Targa has been finished in matte black (F.A. Porsche's prefered colour) along with features such as classic lateral stripes with a platinum satin finish and integrated Porsche Design lettering; a Targa roll bar with the same platinum satin finish; and a Porsche Design 50th Anniversary badge with a copy of F.A.'s signature found on the rear engine grille.
Meanwhile, the 911 Edition 50Y Porsche Design is a reflection of the engineering marvels and luxurious accomplishments of both brands today. Through moden vehicular architecture, the 50Y 911 pays homage to the classic designs of F.A. Porsche. The checked pattern of the Sport-Tex seat centre panels and the red second hand of the Porsche Design Subsecond clock are direct nods to the Chronograph I timepiece, which has also received the special edition treatment through the anniversary event.
Additional features of the 911 Targa 4 GTS anniversary model are the platinum satin-finished Targa bar and rims; high-gloss black brake calipers; an exclusive Porsche Design 50th Anniversary Edition badge on the slats of the rear lid grille as well as contrasting Porsche Design decorative film on the doors.
This version's release will be limited to 750 vehicles across international markets, along with an exclusive 500 units of the Chronograph I 1972 Limited Edition.