Everything you need to know about the new gen Porsche 911 GT3 RS

Porsche pulled the sheet off the latest version of its most track-focussed street-legal 911, the 2023 911 GT3 RS. And as usual, it was an exciting reveal for Porsche enthusiasts.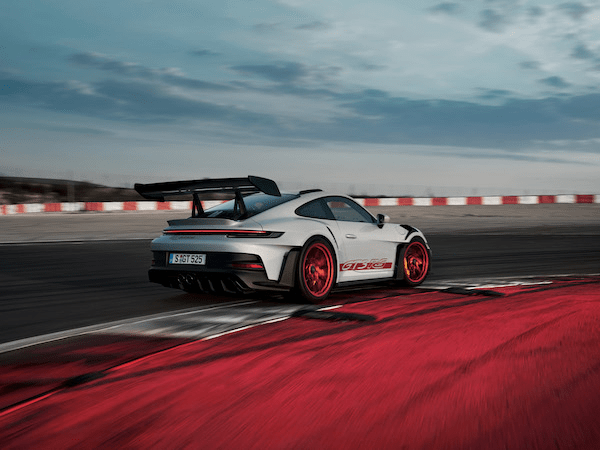 The RS builds on the GT3's 4.0L naturally aspirated engine with new camshafts and modified cam profiles that provide a total of 518 horsepower, some 16 horses more than the GT3, and passes it through a seven-speed PDK transmission with a shorter overall gear ratio. This, combined with more goodies outlined below, allow the 911 GT3 RS to gun from zero to 100 km/h in 3.2 seconds and reach a top speed of 296 km/h in seventh gear. Fuel consumption is rated at combined (WLTP) 13.4 l/100 km combined.
Perhaps most notable this year in terms of changes, however, are the lengths Porsche went to to make the car more cool – in the literal sense – and aerodynamic, borrowing advancements from GT and Formula 1 race cars and bringing it closer to its track-bred brother, the GT3 R. The additions also resulted in a slightly modified appearance.
One crucial piece of this is the new central radiator that was first used in the Le Mans class-winner and then in the GT3 R, which replaces the former three-radiator layout with one large, angled centre unit in the car's front end where luggage would normally be stored, thus freeing up space on the sides for added aero developments. The radiator sends air flowing out from the car's centre through large nostrils on the front lid.
With a 1,450 kg curb weight thanks to ample CFRP components including doors, wings, roof and bucket seats, the 2023 911 GT3 RS generates an impressive 409 kg of downforce at 200 km/h with the help of a continuously adjustable wing in the front and a two-part rear wing. That's twice as much down-thrust as the car's 991.2-gen predecessor and three times as much as the current 911 GT3. Push the car to 285 km/h, and that figure more than doubles to 860 kg of downforce. Air intakes on the underside of the car, meanwhile, help the transmission withstand extreme loads during hot laps.
Another first for a production Porsche is the drag reduction system (DRS) that flattens the wings with the push of a button to allow for lower drag during straight stretches. Inversely, the airbrake function activates wings on both ends for maximum resistance during emergency braking.
All these adjustments in the name of improved aero have also resulted in a bit of a new look. There's the swan-neck-supported rear wing, now bigger in every way, and a rear wing with two distinct parts, one fixed and one hydraulically adjustable that's higher than the car's roof for the first time in a production-model Porsche. Gone is the front spoiler, with a front splitter in its place, and sideblades pushing air out toward the front wheel arches, which are now ventilated via louvred openings in the front wings. On the roof, fins also direct air outwards, helping to provide rear intakes with a cooler setting.
Suspension has also been beefed for track use, with new aerodynamic design and modified spring rates. Drivers can choose between three driving modes that include Normal, Sport, and Track, the latter of which allows drivers to quickly and intuitively adjust rebound and compression damping of the front and rear axles as well as rear differential.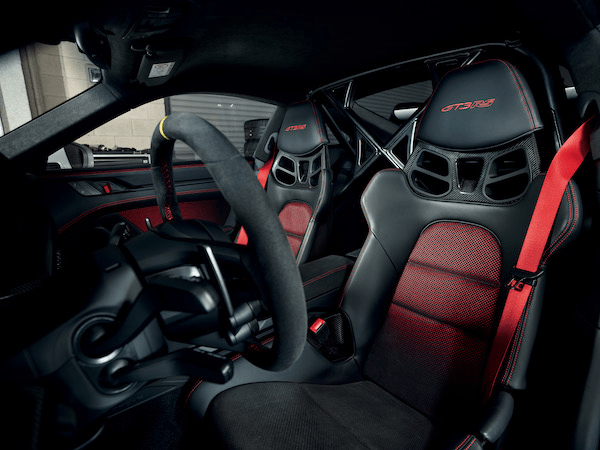 Inside, the new GT3 RS can be fitted classically with black leather, Racetex and carbon-weave elements; a Clubsport package that's free of charge and features a steel rollover bar, fire extinguisher and six-point harness belts for the driver; or with the extra-cost Weissach package that sees even more CRFP components including the roll bar, plus the front lid, roof, parts of the rear wing and the upper shell of the exterior mirrors finished in carbon-weave.
And as a little bonus that drivers can take with them when the car is parked, Porsche has developed an exclusive chronograph timepiece in their Switzerland-based watchmaking HQ.
Porsche also unveiled an even more special version of the 911 GT3 RS at The Quail, A Motorsport Gathering at Monterey Car Week. Some people throw parties to mark an anniversary, but not Porsche. The German automaker is paying tribute to its 1972 911 Carrera RS 2.7 with a special Porsche 911 GT3 RS that's been customized by the GT Model Line and Style Porsche, and that will serve as the inspiration for a limited-run version, hyper customized through Porsche Exclusive Manufaktur, the brand's exclusive personalization division. More details on that beauty of a beast, a Tribute to Carrera RS Package, right here.