High-performance circuit heritage: the Porsche 911 GT3

The new-generation Porsche 911 GT3 is a descendant of high-performing circuit cars acclaimed for their precision and strength on the track. Working in close collaboration with Porsche Motorsport and using sophisticated racing elements as the life source, Porsche has created a new 911 GT3 worthy of its lineage.

Incorporated into the 2022 911 GT3 is the double-wishbone front axle layout with a swan neck rear wing and diffuser, originating from the GT race car 911 RSR. Powered by the four-litre six-cylinder boxer engine, known for endurance racing within the 911 GT3 R, this 911 GT3 produces a confident, high-revving engine that delivers precision power serenaded by an acoustic flair.

The 911 GT3's ancestral mechanical makeup surpasses its lineage, with a top speed of 320 km/h and 318 km/h with PDK, leaving the previous 911 GT3 RS behind. And from a pause on the track or the road, the 911 GT3 accelerates from zero to 100 km/h in 3.4 seconds. Porsche has also made available a model featuring a six-speed manual transmission.

The noted performance roots trickle down to the updated aerodynamic kit of the new GT3 as well. The manually set wing and diffuser elements generate an impressive downforce, while lightweight components lower the combined consumption of the car to 13.3 litres/100 km (PDK 12.4).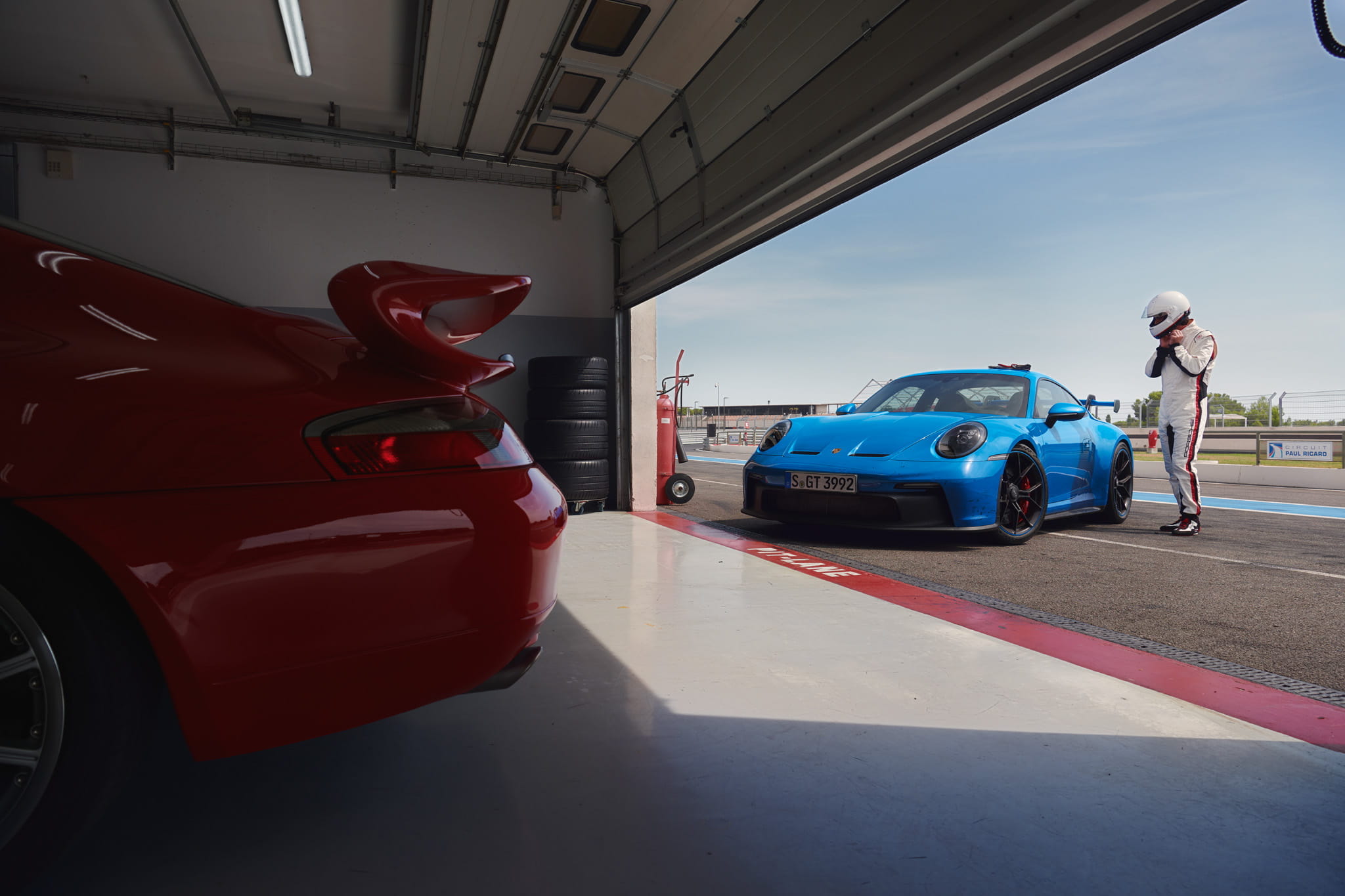 A carbon fibre-reinforced plastic (CFRP) front bonnet, lightweight glass window, forged light-alloy wheels, optimized brake discs and lightweight sports exhaust system put the car on par with its predecessor, despite a wider body and larger wheels.
In the cockpit, modern characteristics are paired with racing genetics to display digital readouts, tactile buttons and elegant trim details. The new track screen features information such as tire pressure indicator, oil pressure, oil temperature, fuel tank level and water temperature. A visual shift assistant is also included with coloured bars left and right of the rev counter in addition to a shift light.
The Porsche Exclusive Manufaktur range for the new 911 GT3 includes customized equipment such as a lightweight roof made of exposed carbon fibre, exterior mirror tops made of carbon, darkened LED matrix main headlights with matching Exclusive design rear lights sporting an arc of light absent of red components, as well as newly-developed Shark Blue or Red painted wheel rims.
The 2022 911 GT3 will arrive in Canada by Fall 2021.
Date Posted: April 23, 2021