Detailing Porsche's new 'My Porsche' application

In the vast landscape of digital automotive connection, Porsche has introduced a new virtual tool available to customers with Porsche models from 2016 or newer, offering versatile features and real-time vehicle information.

Over the coming months, several existing apps such as My Porsche Essentials, Car Connect, Porsche Charging and 'Porsche - Good to know' will be integrated into a single service, the My Porsche app, with the existing functions updated and streamlined for ease of use.

The new My Porsche app offers drivers a simplified digital tool to better connect with their vehicle through their smartphone when connected to a cellular network and within range of the vehicle.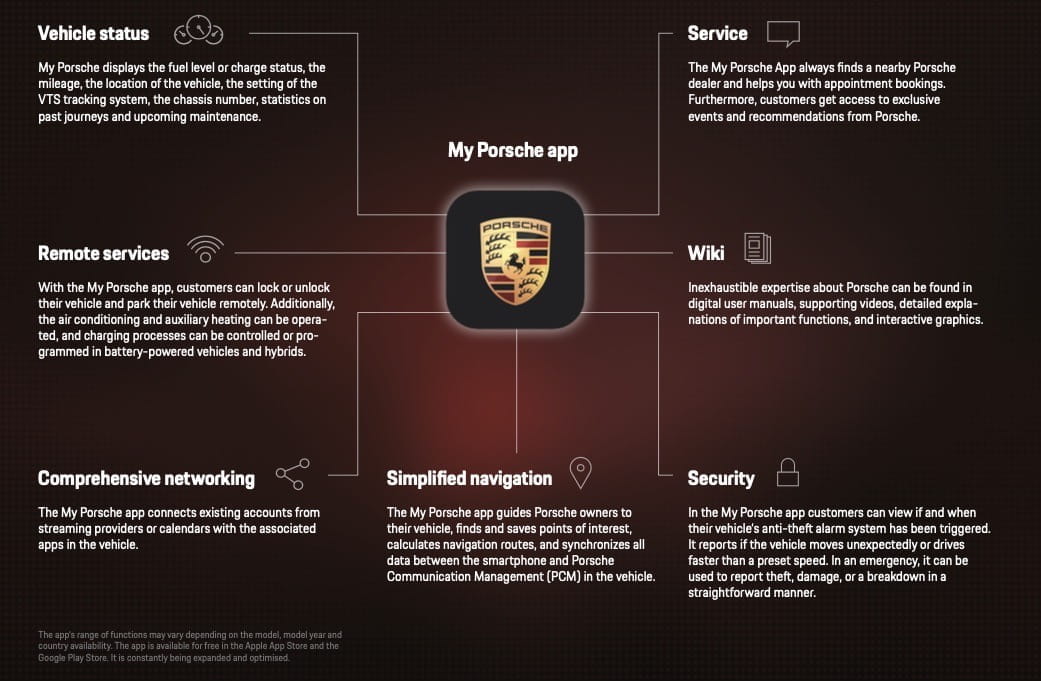 Users will be able to remotely control in-vehicle operations such as climate controls and security systems remotely, keep track of fluid levels in combustion models or charging operations in electric and hybrid models. When a mechanical appointment is due, the My Porsche app will assist in contacting a nearby dealer and booking it, as well as by keeping track of scheduled appointments through calendar integration.
In addition to smartphone synchronization, the app acts as a hub for driver or passenger media streaming services. It is also equipped with a digital owner's manual and intuitive videos to assist with general upkeep.
Models manufactured from 2016 onwards are able to display an accurate record of internal vitals through the use of the car's OBD II computer. Through this connection, the vehicle will also display GPS connection with the app, report posted speed limits in real-time and document trip statistics.
Currently, the app is available for Apple iOS 14 and later or Android 8 or later. It will be available in 47 countries and 25 different languages to start, with the expectation to expand in the coming months. Customers need only their Porsche ID to sign in or register directly through the application. Functions of the application currently support current Porsche models and the following older models:
Porsche 718 Boxster, 718 Cayman (from the 2016 model year)
Porsche 911 (from the 2016 model year)
Porsche Panamera (from the 2016 model year)
Porsche Macan (from the 2016 model year)
Porsche Cayenne (from the 2016 model year)
Porsche Taycan