Porsche Cayenne vs. Macan: Model Comparison

It was nearly twenty years ago, back in 2003, when the Porsche Cayenne first arrived on North American shores, some two years after being released in Europe. It was the first sport-utility vehicle designed and manufactured by Porsche, but not the last.

After over a decade of great popularity, the Porsche Cayenne was joined by another Porsche SUV, the Macan, which debuted in 2013 and landed in North American driveways in 2014 as a 2015 model year. Since then, the Macan has gone on to be the brand's best selling car in both the U.S. and Canada. Number two in sales? The Cayenne.

But what differentiates the two popular Porsche SUVs? How exactly does the more senior Cayenne stack up against the newcomer Macan? Let's take a look at some of the main similarities and differences in the 2020 Cayenne and Macan:
| | 2020 Porsche Cayenne Base | 2020 Porsche Macan Base |
| --- | --- | --- |
| Max power (hp) | 335 hp | 248 hp |
| Acceleration from 0 - 100 km/h | 6.2 s | 6.7 s |
| Acceleration 0 - 100 km/h with Sport Chrono Package | 5.9 s | 6.5 s |
| Top speed | 245 km/h | 227 km/h |
| Height | 1,696 mm | 1,624 mm |
| Width (not incl. mirrors) | 1,983 mm | 1,923 mm |
| Length | 4,918 mm | 4,696 mm |
| Wheelbase | 2,895 mm | 2,807 mm |
Style & Size
First off, there is no mistaking the Macan or Cayenne for anything other than Porsches. Both are striking in their design, cutting athletic profiles that look every bit at home alongside the sleek outline of the iconic Porsche 911. Here's a side-by-side comparison showing some of the most noticeable differences, including the Macan's redesigned rear end with a new tail light strip and four-point brake lights.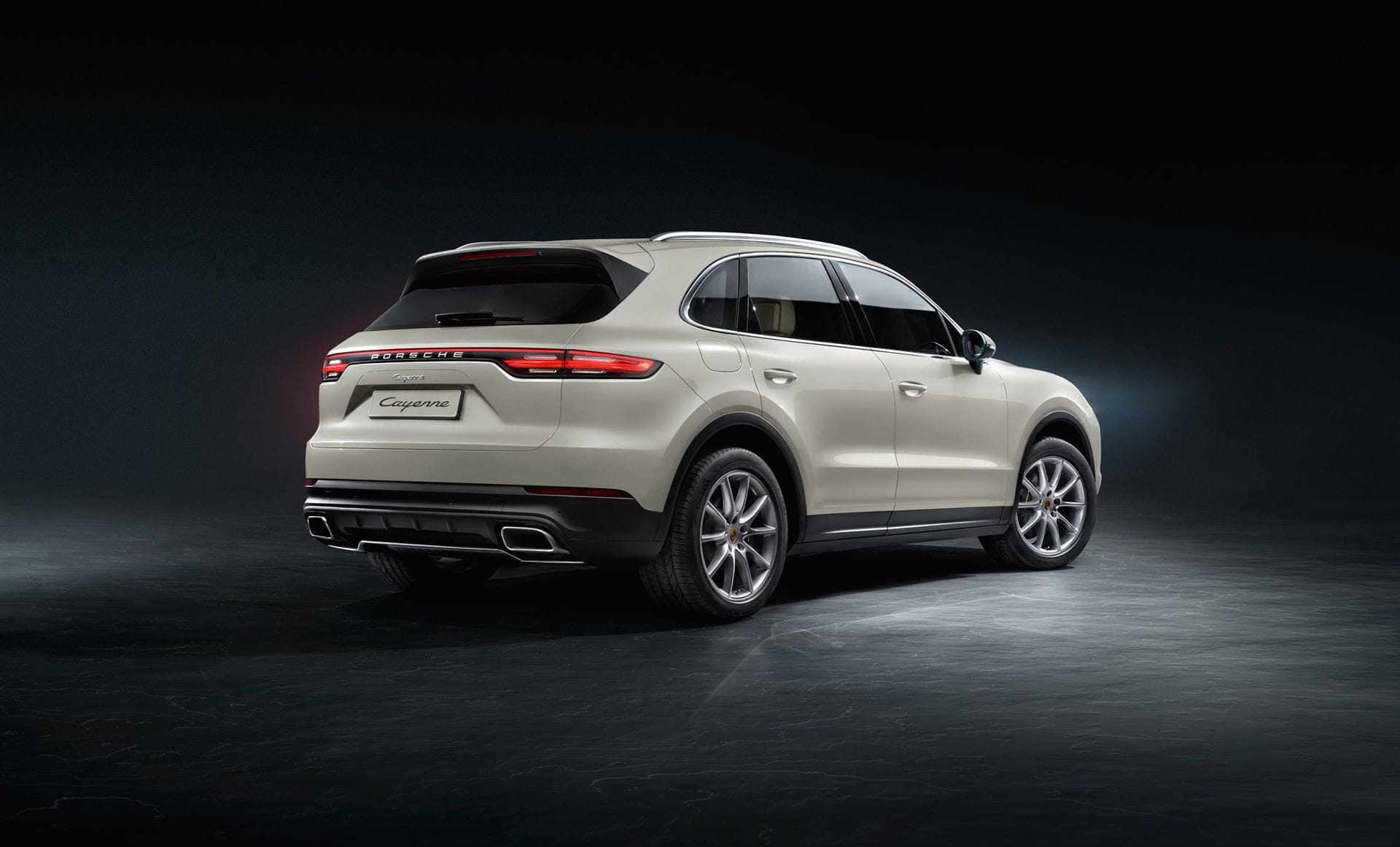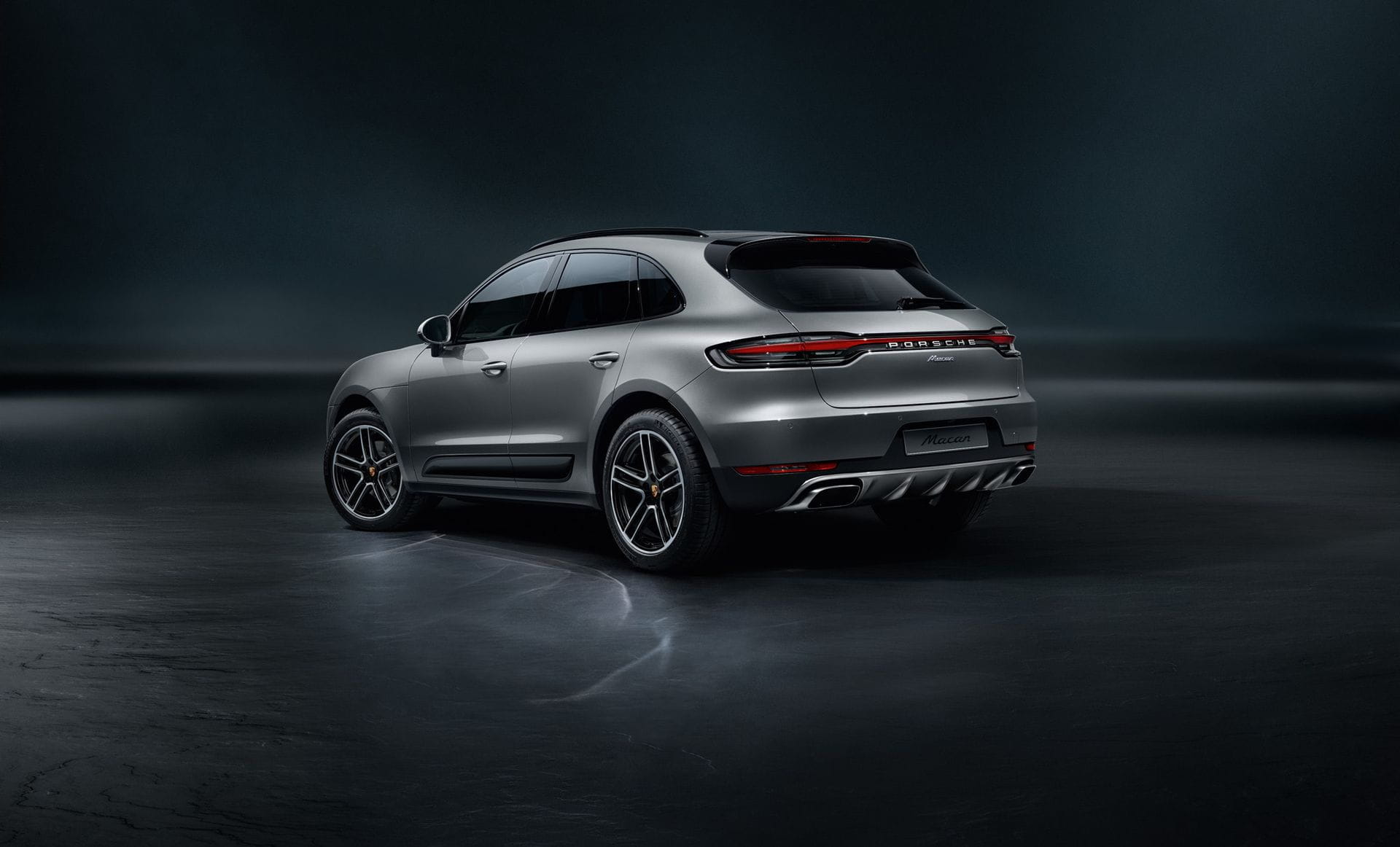 As far as size, the Macan is the more compact of the two Porsche SUVs, with a shorter body height, shorter exterior length (by 7 inches) and a lower curb weight. Both 5-door SUVs offer seating for 5 passengers, but the Cayenne offers nearly 8 cubic feet more cargo space than its little sibling.
Performance
A V6 engine making 335 hp and 332 lb-ft of torque sits under the hood of the base model 2020 Cayenne, while the base 2020 Macan derives its power from an inline turbocharged 4-cylinder producing 248 hp and 273 lb-ft of torque. Upper trim options include a V8 option for the Cayenne and V6 for the Macan.
A 7-Speed Porsche Doppelkupplung transmission moves the power in the Macan, driving the SUV from 0-100 km/h in 6.3 seconds. The Cayenne's 8-speed Tiptronic S transmission, meanwhile, takes the standard model from standstill to 100 km/h in 5.9 seconds.
Safety & Tech
The Macan and Cayenne are stocked with Porsche's latest and greatest in safety and comfort technology, though the Cayenne offers a few more standard features. Both have parking sensors front and rear, along with many other driver-assistance features.
The 2020 Cayenne comes standard with Forward-Collision Warning, while every Macan comes with Lane Departure Warning.
For more information on either of Porsche's outstanding SUVs, contact us. Or, if you'd rather learn via a more hands-on approach, book a contact-free test drive to get behind the wheel of the 2020 Porsche Cayenne or Macan today.
Date Posted: August 19, 2020