Porsche Taycan breaks indoor speed record, with new models on the way

Porsche continues to impress with its all-electric Taycan, which most recently broke the Guinness Indoor Speed World Record inside the Ernest N. Morial Convention Center in New Orleans.

At the beginning of February, Porsche announced that pro driver Leh Keen reset the Guinness-certified indoor land speed record of 165 km/h with the 2021 Porsche Taycan Turbo S, after previously holding the record at 140 km/h.

The record-setting display is credited to the Taycan's ability to get to 100 km/h in 2.8 seconds with launch control, all-wheel-drive and 750 electric horsepower fed by its two engines.

But the impressive performance figures are nothing without the Taycan Turbo S's stopping power, achieved by its carbon-ceramic brakes, effectively bringing the vehicle down in speed safely, especially on uncertain surfaces. Or indoors where walls must be taken into account.

"I didn't really appreciate the scale of the record attempt until my first exploratory run," Keen said. "The surface is so unpredictable, so slick, that you have to have complete trust in your car. It truly was like ice, and you're accelerating flat out, facing a really hard wall at the end. Suddenly, even in a massive space like the one we had, it seems very small."

While drivers certainly won't be breaking indoor speed records, Porsche has been diversifying its Taycan lineup by adding the Cross Turismo and RWD Taycan models.

Visibly related to the Taycan and speculated to share its acceleration figures, horsepower and electric range, the Cross Turismo gains a taller, more extended roof for second-row passenger space. Porsche has mounted the rear bench higher for easier cabin entry and more cargo space, offering all the flexibility and versatility required of the wagon.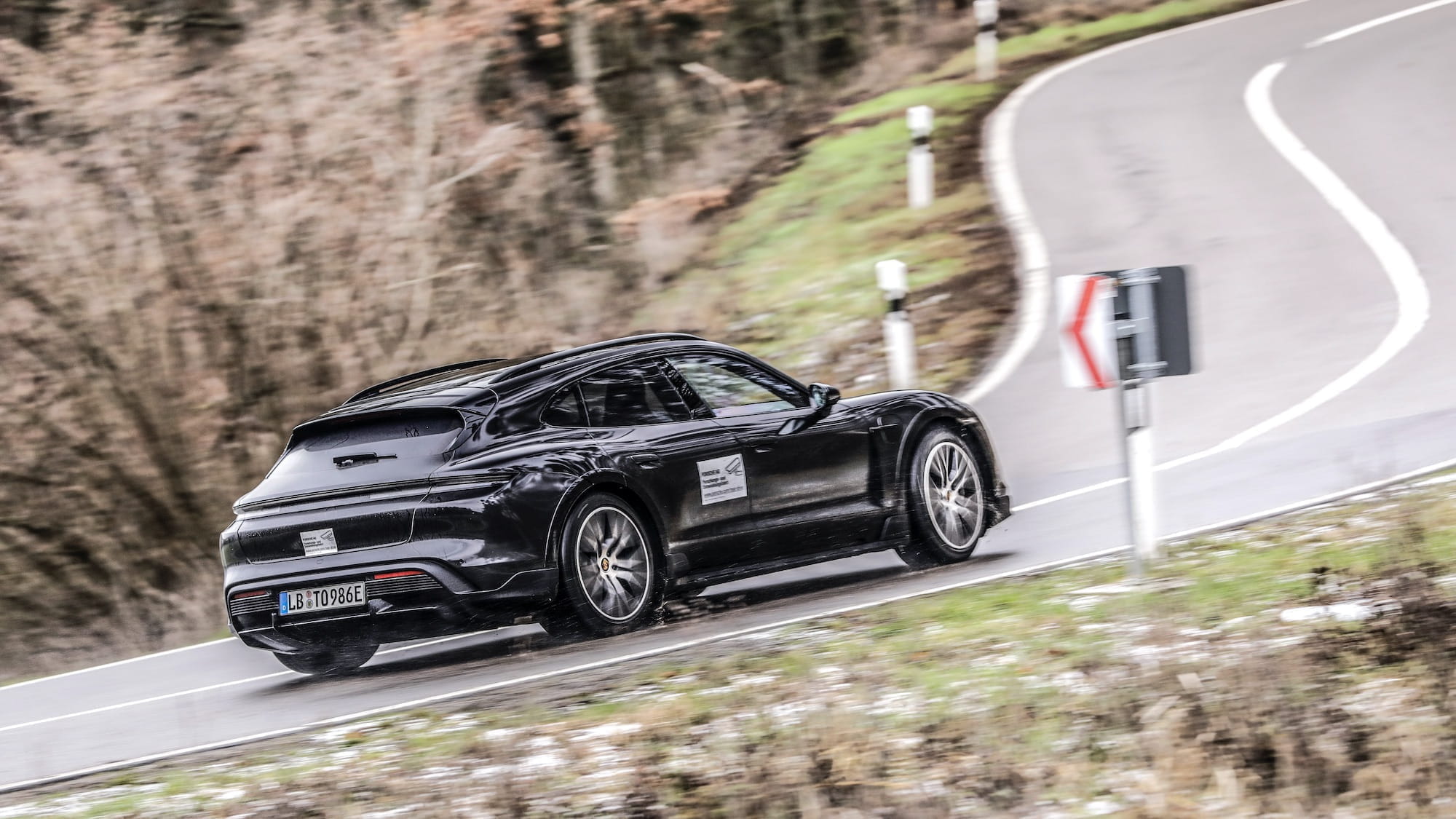 With a modified suspension system and a body style-specific driving mode, the Cross Turismo gains additional ground clearance, allowing the Taycan variant more determination on dirt roads.
Porsche's RWD will arrive with a lighter weight due to the loss of the front motor and lower horsepower than the Taycan 4S. While the RWD model loses the impressive acceleration and torque of the AWD Taycans, a lighter vehicle with 79.2 kWh or 93.4 kWh batteries offering an estimated range of 431 and 484 kilometres, respectively, is reason enough for drivers to be excited about this variant.
This new base model Taycan is set to release in March 2021 alongside the Cross Turismo, also due in early 2021. Contact the team at Porsche Centre Oakville for more information.
Date Posted: February 25, 2021