Porsches new 911 GT3 is a wolf in wolfs clothing

Race-bred performance. That's a term which gets thrown around a lot in the automotive world, and with good reason. Race car development is at the heart of performance innovation, so it's natural for automakers to want to attach as much of that mystique to their sports cars as possible. But very few cars can claim shared DNA with their purebred racing stablemates. The new 2018 Porsche 911 GT3, however, is one that can.

Typically, race cars are developed and built alone, in isolation from a company's regular production line. Not so with the 911 GT3. In fact, so few attributes have been altered from Porsche's 911 GT3 Cup race car to create the street-legal version, the two vehicles are tested on the same track, and assembled on the same line.

To get a sense of just how much race technology is packed into the 911 GT3, you need look no further than its flat-six engine. In previous years, the naturally-aspirated powerplant was based on the one used in the Carrera S. For 2018, it shares the same heart as the GT3 R and RSR race editions: A 4.0 litre, 500 hp monster capable of rocketing the GT3 from zero to 60 miles per hour in 3.2 seconds. For purists in search of a truly visceral experience, a six-speed manual transmission taken from the 911R is now an option, in addition to the standard state-of-the-art seven-speed dual-clutch PDK transmission.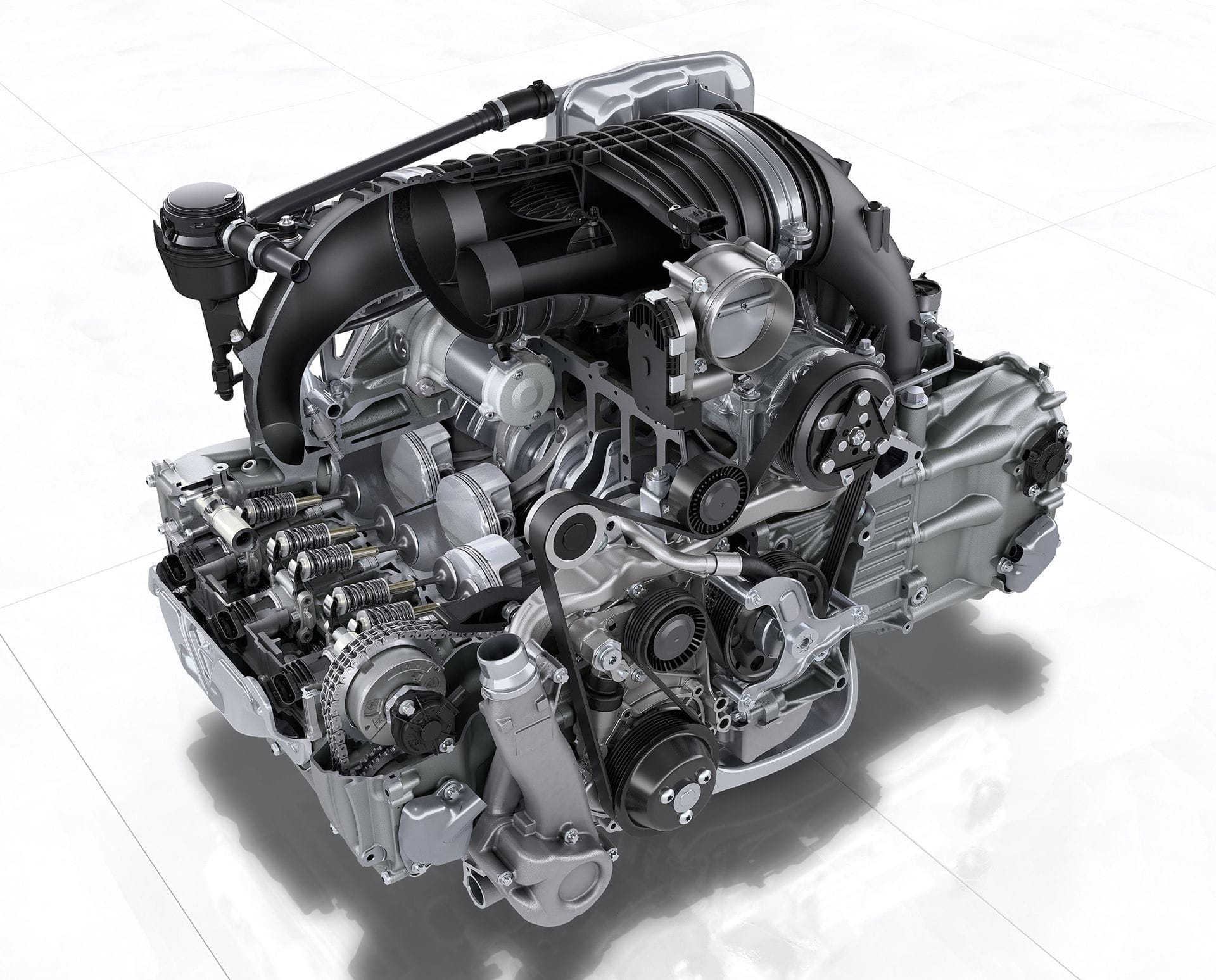 Of course, power without control is meaningless. Rear-wheel steering, which was first introduced to Porsche production cars with the 2014 911 GT3, has been further refined for 2018, giving the new model even greater agility when cornering, both on and off the racetrack. The dynamic engine mounts and rear locking differential both contribute to a feeling of unity -- every inch of the GT3 has been designed to maximise the driver's ability to direct its fury precisely and with confidence.
Speaking of fury, is there a single design element that more dramatically hints at unrestrained engine power than air scoops? The new 911 GT3 has two massive carbon fibre intakes that sit atop the car's signature rear diffuser. Not only do they assist performance, with a claimed 10 percent increase in horsepower, they look supremely badass. The same carbon fibre can now be seen on the rear spoiler's winglets as well as on the front air dam, as Porsche's engineers try to excise every single gram of weight from the GT3's body.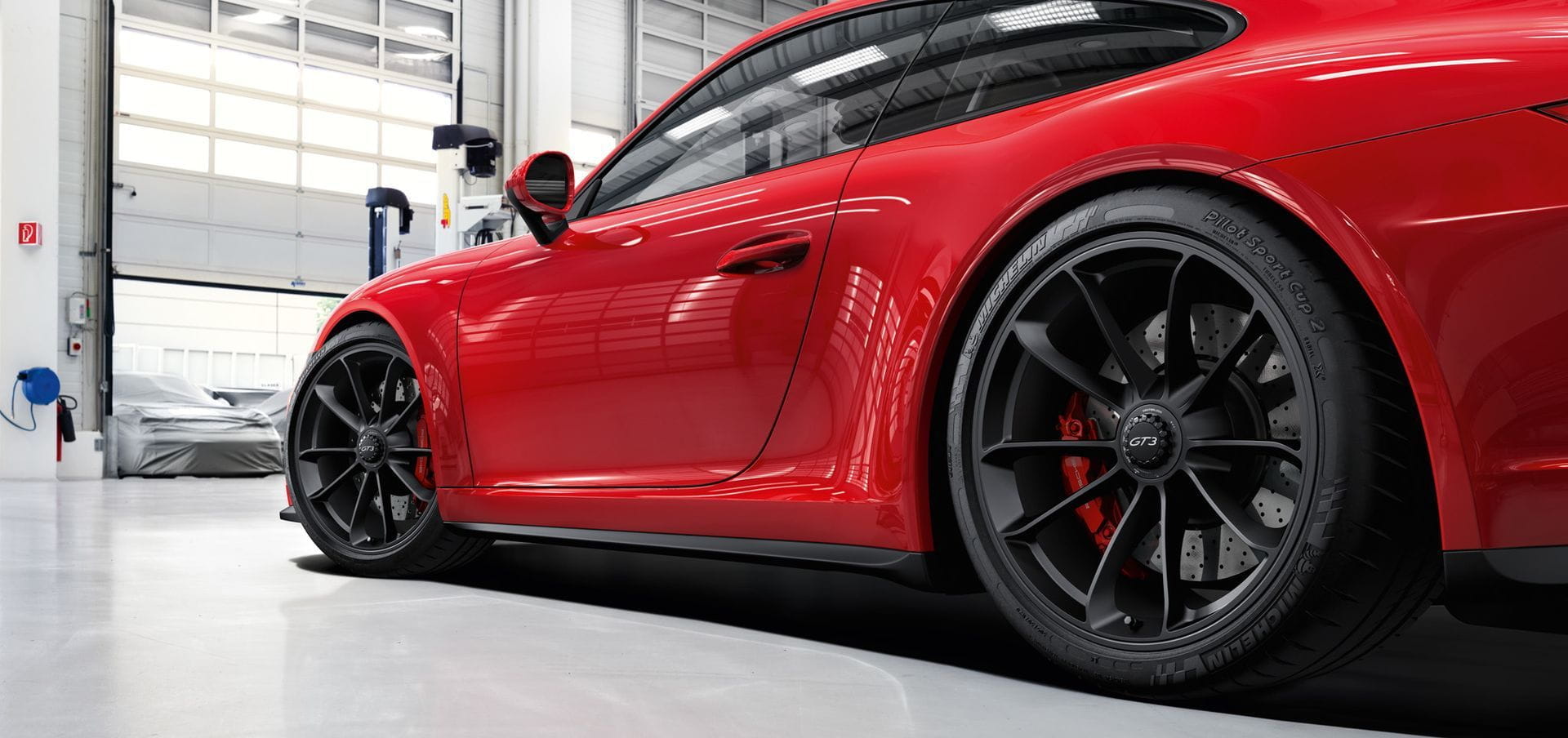 A look inside the new 911 GT3 reveals more changes. A 14.1-inch diameter steering wheel that has been lifted from the 918 Spyder graces the steering column, while the seats come in three varieties: The standard two-way electrically adjustable version, a full-bucket style with a fixed carbon-fibre headrest for racing aficionados, and an 18-way electrically adjustable Adaptive Sport Seat Plus option that comes with a power steering column and seat memory.
If all of these superlatives aren't enough to convince you of the 911 GT3's status as a street-legal race car, consider that it is one of only three models to come equipped with Porsche's Track Precision App, a must-have digital companion for those with a serious appetite for pushing the limits. Using your smartphone and telemetry acquired from the GT3, the app can provide full racing performance stats overlaid on top of real-time video, giving drivers an in-depth look at every aspect of their track run. Drive line visualizations are backed up by a host of data including steering angle, brake pressure, and lateral & longitudinal acceleration, for the most comprehensive evaluation of your performance.
The new 2018 911 GT3 is available to order now and is scheduled to arrive at Porsche Centre Oakville in the third quarter of this year. The MSRP starts at $163,300.
Date Posted: March 29, 2017