Road Atlanta – where champions are made.

It was another championship weekend for the Porsche Centre Oakville/Alegra Motorsports team with wins from Daniel Morad and 16-year-old Michael De Quesada.

What were you doing when you were 16? Likely hanging around the 7/11 or looking for someone to buy you beer. Such is the life the of average North American teenager navigating their way through adolescence.

But Michael De Quesada—the 2016 Gold Class GT3 Cup Challenge USA by Yokohama Champion—is not your average teenager. In fact, Michael is the youngest driver ever to win a championship title in this series. While most his age are working on their parallel parking skills, Michael is deftly weaving his 997 GT3 Cup Car through turn after turn, reaching speeds of up to 240 km/h.

The young driver has spent most of this life around a racetrack, diligently honing his skills and learning what it takes to win. His Gold Class title, which he earned this weekend at Road Atlanta, tells us that he's a quick study.

While Michael secured his championship title this weekend, his teammate, Daniel Morad, made history by breaking the qualifying track record at Road Atlanta, as well as the race track record, and becoming the first driver to capture the IMSA North American Championship title.

Now, the accolades often go to the drivers, and we are most definitely proud of our talented men behind the wheel, but the victory would not be possible without the team working behind the racers. Team members like data engineer Bob Knox, who has been the voice in Michaels ears as he drives the track; Larry Hahn, who works with the drivers to make sure each are is set up based on the feedback provided by the drivers; and Team manager, Andy Greene and Crew Chief Tony Ditto who are always making sure all the I's are dotted and T's crossed.

In the fast paced world of GT3 racing, it takes more than a group of men and women with a common goal to win titles. It takes a team, a family, and absolute dedication. That's what the Porsche Centre Oakville/Alegra Motorsports team has become, a family. And you know what, it's really starting to pay off.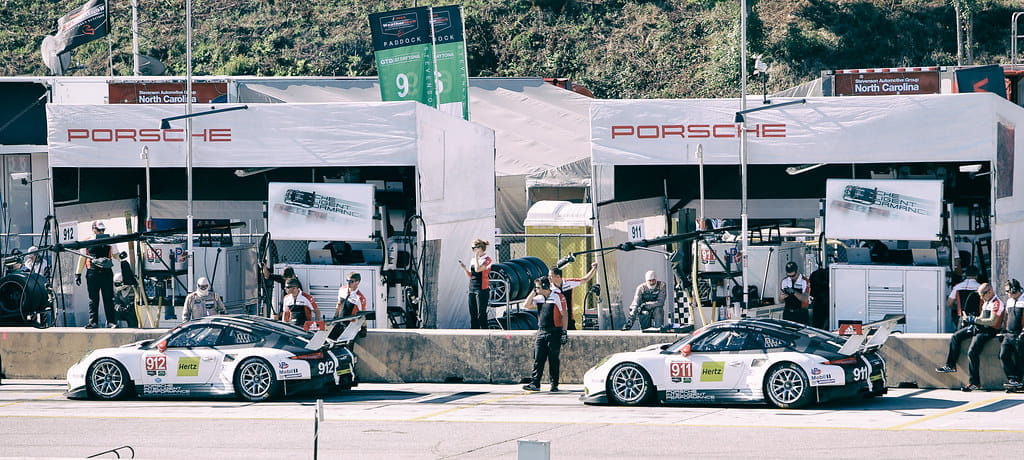 Date Posted: October 1, 2016