The anniversary model Porsche 911 Speedster Concept is something to behold

If there is one thing Porsche does better than anyone, it's combining modern design with old-school classics. Whether we're talking about one-off concepts or regular production models, the brand frequently draws from its Best-Of list when it rolls out something new.

The most recent example of their production prowess a look at their latest creation, the 911 Speedster Concept: to celebrate their 70th anniversary, the German automaker took their most modern 911 and gave it a retro makeover.

As you can clearly see, the concept is based on the latest 911 and incorporates some of the most advanced technologies Porsche has available right now. In fact, the car's mechanical bits have been designed by the GT department—known for the GT3, among other things. Most of the chassis components have been lifted from the 911 GT3 while the engine is its own, a naturally-aspirated flat-six that develops over 500 horsepower while revving at up to 9,000 rpm. For maximum driver enjoyment, a six-speed manual transmission has been installed where the GT3's seven-speed PDK usually resides.

Visually, the 911 Speedster harkens back to the 356 Speedster, the very first open-top Porsche to have been built. This car is more than just a convertible 911 with some graphics; however, the windshield frame is shorter and more raked, giving the car a stockier look. The side windows are also shorter, thanks to this. A carbon fibre tonneau cover—shaped with a 'double bubble' that was originally found on the 356—now covers the rear of the car and conceals the modern rollover-protection system underneath.

While the body of a 911 Carrera 4 Cabriolet was used (mostly because of its added width) was used, the car stays faithful to the 356's original ethos, and so, to be as light as possible, there is no top under the tonneau cover. If the concept gets caught in the rain—an unlikely scenario—a fabric cover held by Tenax fastener is located under the cover.

Inside, the carbon seats are covered in Aniline leather boasting a very attractive shade of Cognac 356, another throwback to the 356. Even the features are old-school with the infotainment system, GPS, and the air conditioning having been removed.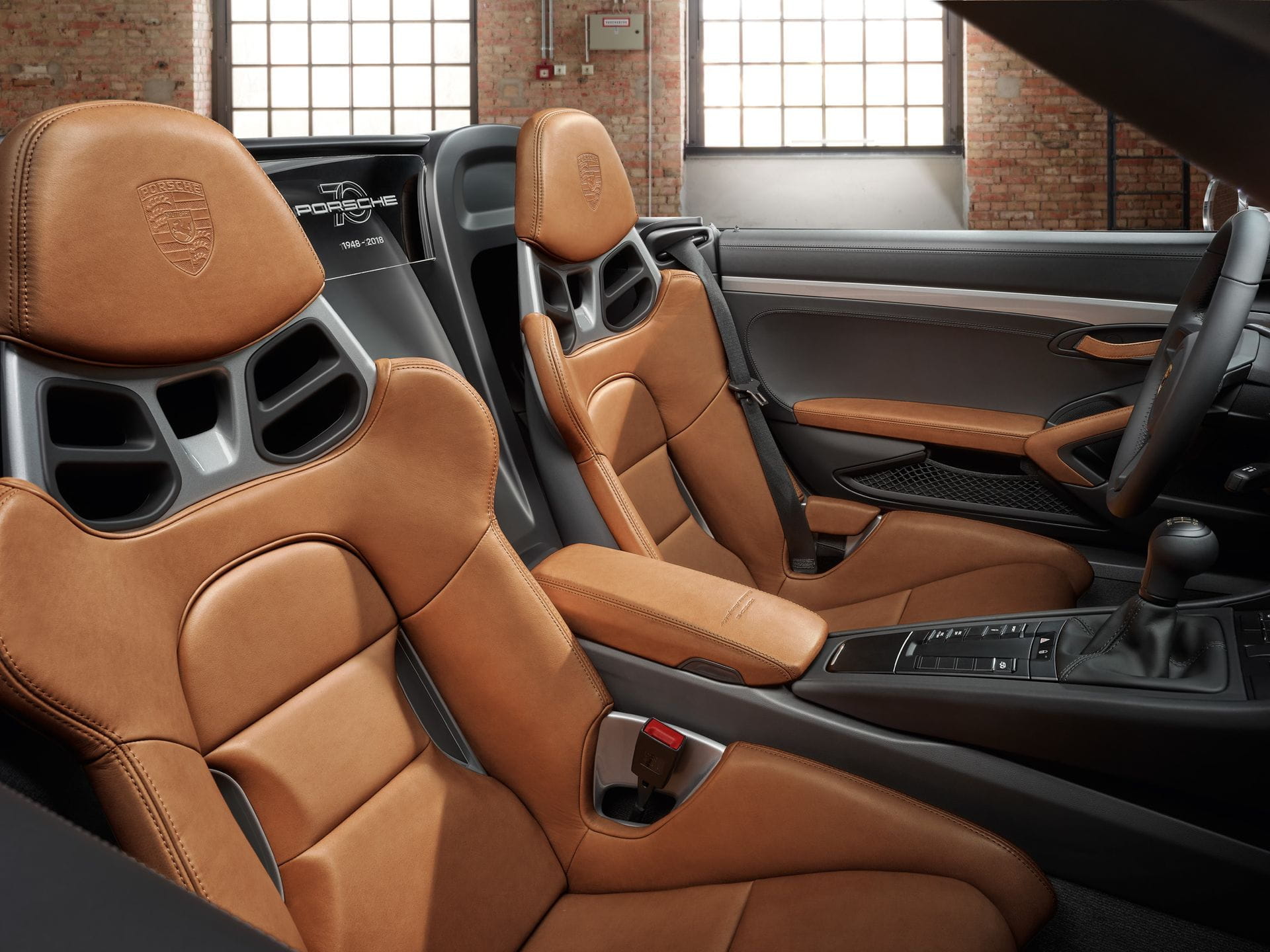 Porsche says that while they will not start building the 911 Speedster Concept right away, they are gauging interest. If enough customers clamour for one, they might develop a more production-ready version that would be shown to the public in 2019. The final decision will be announced in the coming months.
Date Posted: August 13, 2018