We sent a "I'm not a car person" person to our Porsche track day ​

Lisa Felepchuk is a Canadian writer and journalist currently traveling Canada in a vintage campervan.

I've never considered myself a "car person." I can appreciate a vehicle for its aesthetic value and practicality, sure, but can I recognize performance details between brands or models? Probably not.

When I pulled up to Canadian Tire Motorsport Park (in an orange 1983 Westfalia camper van that I currently call home) for the Porsche Centre Oakville Driver Development Track Day experience, I felt like an outlier in a land of shiny 2018 sport cars. I was intimidated. Not only by the machines with way less charm (read "rust") and way more power than my vintage rig, but also intimidated by the Porsche owners themselves, fanatics and gearheads, who I was about to meet. Would we have anything at all in common? I usually rate a car based on it's silhouette and colour, that's it; I still don't fully understand what 'torque' is.

Let me repeat: I am not a car person.

But the very first person I introduced myself to, Helen*—a mother from Mississauga with two university-aged kids—instantly put me at ease. Helen's smile was just as electric as her love for Porsche. She was charming, inquisitive, and really, really adored her own Porsche Cayenne, which I learned she used daily. Helen hadn't come to the driving event to talk performance, per se, but she was a long-time fan of the brand, and curious what a 911 would feel like on a racetrack. I had to admit, as the only female driver that day, I thought it was ballsy. I immediately liked her.

I watched from the pit for an hour as 20 or so other driving participants, my partner among them, were guided around the track, led by the professional drivers who were playing host for the day.

"When are you taking your turn!?" Helene asked enthusiastically, stepping out from the driver's seat of a black 2018 911 Carrera S.

"Never!" I told her shaking my head and laughing.

That aforementioned Westfalia has a decal on the back that reads "Life in the Slow Lane," and I'm content puttering along at 80km max on the highway—a race track is no place for my kind. Not yet, anyhow. I still needed to observe.

Even from the sidelines, I could feel the energy each time one of the participants got out of the Porsche driver seat to swap roles with their partner. It was infectious.

About half way through the day, Helen was taking a break from track and asked again, "Are you really not going to get into one of these things!?" At that moment, as luck would have it, I was offered an empty seat to sit as a passenger with another driver. Sure, I wouldn't feel the torque under the pressure of my own foot on the gas peddle, but I could certainly experience it riding shotgun.

I'm not going to go into detail about being a passenger in a Porsche 911 on a track other than to say this: it felt like a rollercoaster, and my mouth was appropriately agape for the entire four laps.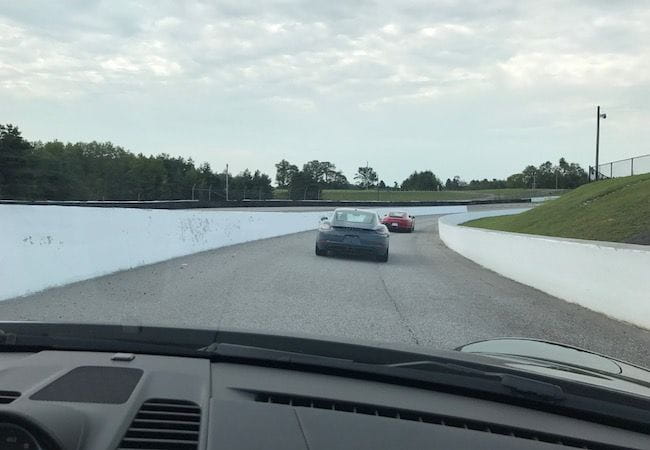 When I got out of the car, adrenaline pumping, Dave, another friend I'd made track-side, came over to see how it was. Dave had gifted his father, a lifelong Porsche owner, a day at the track as a birthday present, and had brought his own two-year-old son along, too. The child's blue eyes grew excited each time the processions of four cars came by our section of the track.

I went into the Porsche driving event feeling intimidated and, frankly, kind of inadequate. But I came out with a handful of new friends and a slightly better understanding of torque. And, dare I say it, I'm a little more of car person now.

Who knows, maybe next year I'll even get behind the wheel.

Date Posted: September 15, 2017

​