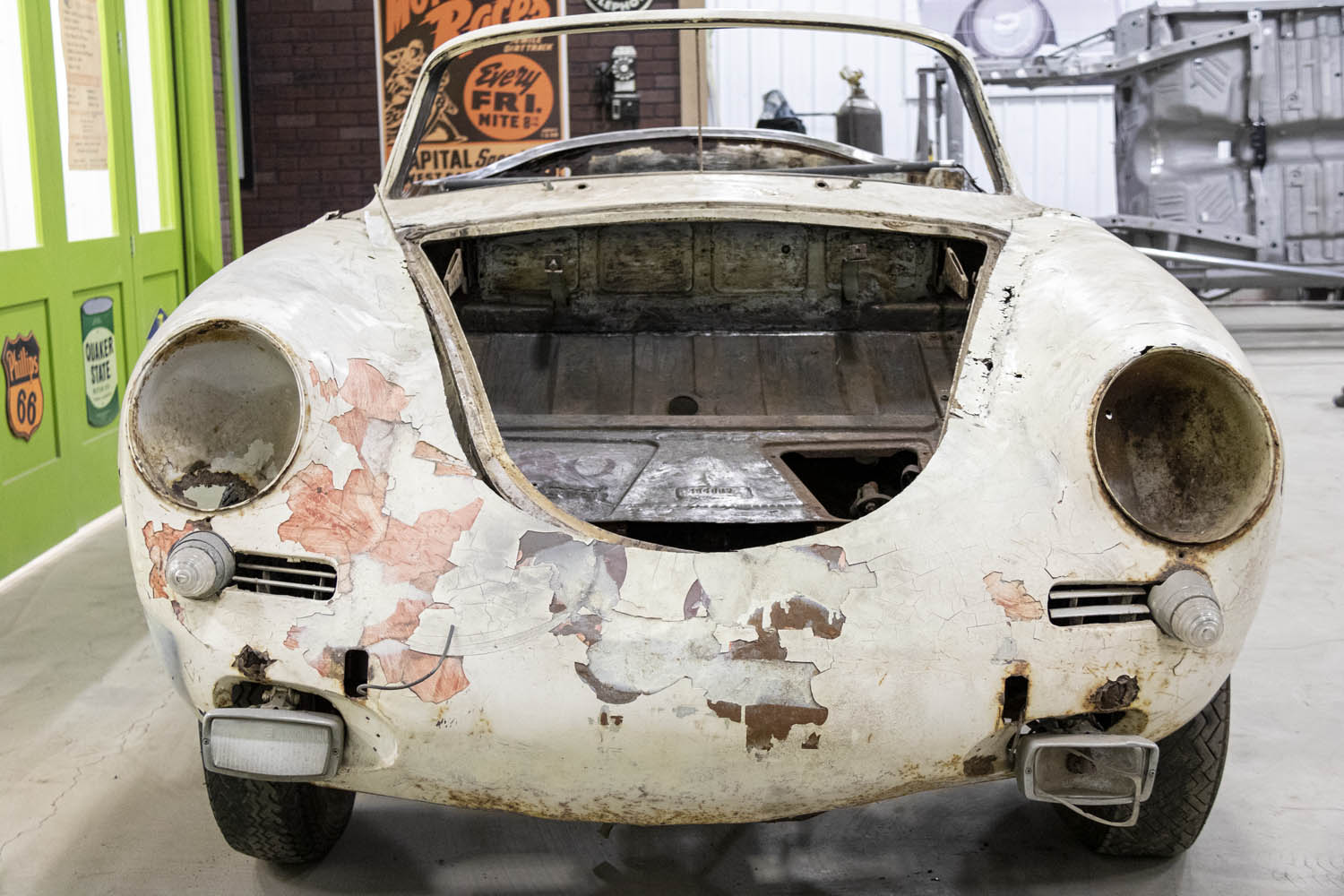 Porsche Classic Restoration - 2020
The adventure begins.
Fresh off a win from the first-ever 2019 Porsche Cars Canada's Classic Restoration Competition, the 2020 Restoration Challenge is well underway. This year the subject of our restoration is a 1960 Porsche 356 Cabriolet affectionately named, Louise.

The winner of the competition is judged on the use of original parts, the quality of the finished product and a before/after comparison to appreciate the amount of work involved.

Vaughn Wyant found Louise in California and where everyone else saw junk, he saw beauty. "Louise was literally delivered to us with bungee cords holding it together," Vaughn says, "But I'm not interested in what she looked like, I'm interested in the potential of what she could look like. She's a Porsche convertible from the '60s with an original hardtop, engine, and transmission. She is going to be magnificent."
Phase 1
The Task At Hand.
The restoration team faces a substantial amount of corrosion as Louise was stored 'topless' for years. Two members of our team will spend the better part of two months repairing the metalwork on her body alone. Sourcing original parts will also be complicated, as many of the parts are no longer in circulation. To ensure Louise remains period correct, our team will likely hand-fabricate the majority of these parts.
Challenge Accepted.
But, our team is up to the challenge. Team lead Wes Moskwa says once the metalwork is finished the restoration will progress quite quickly. "I'm sure we will be hard at work on her right up until she needs to be loaded up for transport – just like the previous contender. Nine months is a tall order for a complete restoration, never mind complicating it with the rarity of parts and hand fabrication of a good portion of her body."
Our team is unfazed by any additional pressure coming into the 2020 competition as the previous year's winner. Instead, we focus on exceeding our own personal standards. Wes says, "There were so many great cars competing in 2019 and I expect everyone to ramp up their restoration quality. We will have to do the same to remain competitive alongside them." Join us in cheering on Porsche Centre Saskatchewan to defend our title as champion of the Porsche Cars Canada Restoration Challenge.
Phase 2
To truly begin the reconstruction process, we need to strip Louise back to her bare-bones. The nose, rear body and panelling were removed so the technicians could grind down her rusted edges and cut out the parts that are too heavily damaged. Marc Ouayoun, President of Porsche Cars Canada was kind enough to stop by the shop to visit Louise and witness the transformation. The difference between a restoration and a masterpiece is time and imagination. Our technicians have the imagination, but time is of the essence.
Portrait of Louise.
When you look at Louise, you might see rust, neglect and disrepair but beneath the corroded exterior, we see rich potential waiting to be unlocked. As our technicians make her beautiful again, we are capturing the process to give you the full picture of her incredible transformation. Follow us as we create the Portrait of Louise.
Phase 3
Sometimes a work-of-art must be torn down so it can be rebuilt fully. We trust Louise's ability transform and she's already nearly unrecognizable. The damage to the A and B pillars has been completely repaired and large sections of the rear, including the upper trunk panel, body panelling, flanges, and firewall have been hand-fabricated and installed. She is now being mounted on the 'rotisserie' and prepared for a light sandblast so the assembly of the front suspension and cable s can begin before she returns to her four wheels.
Phase 4
The engine is the heart of a Porsche. Louise's heart needed a little tender love and care, but in our technicians' capable hands, she is well on her way.
Phase 5
With her foundation solid, our technicians can begin to build Louise up again. Her base has been sandblasted and textured to her original glory and the floor is welded in ready and for a tunnel. Much of her panelling was so corroded, it simply had to be cut away which meant a significant portion of this section of the restoration required parts to be hand-fabricated and deftly welded to her body. This required heavy work to the right-hand engine bay apron, the deck lid, the left-hand quarter panel wheel opening, rear apron, and rocker
Her interior is also beginning to take shape. The engine bay and passenger areas are all painted and now await the final furnishings and the trunk is nearly ready for the outside skins. Her hardtop has been refinished and fitted to the body to ensure all windows and doors will operate correctly.
Phase 6
The spirit of Louise has illuminated her broken exterior since the beginning, but it took a special pair of eyes to recognize it. As we near the end of the competition, her true colours are shining through for all to see. Polishing and priming for the exterior paint constitutes one of the most labour-intensive segments of Louise's restoration. Each piece was individually polished in a progressive sanding process starting at 120 grit sandpaper and finishing with 800 grit. The engine tins have already begun the painting process and have been restored to their factory black shine. With the hood rebuilt, the body was prepared with 4 coats of final primer and is now ready for the first coat of paint.
Phase 7
The finish line is in sight for the 2020 restoration. The allure of Porsche goes beyond attention to detail but the intention of every detail. Our technicians have focused in on each individual element of Louise to ensure the completed 356 represented the complete portrait of her golden years. At this point, the exterior is nearly complete: all layers of paint have been applied, and the door glass and windshields have been installed. The restored taillights and headlights have been affixed to the primed and polished front and rear bumpers and the wheels have been disassembled, re-chromed, and reinstalled. One of Louise's most unique features is her 80lt fuel tank as well as the original numbers matching transmission, both of which have been painted and put in place.
With her portrait nearly complete, we get to hear, in her own words, what the transformation has meant to her.
Phase 8
Restorations are like marathons. They take time but you can't go wrong when you finish strong. Porsche is a brand known for its fit and finish, and that is what this phase of the restoration covered. Completing the details that together create a fully restored masterpiece. The interior material and headliner were installed along with the rebuilt engine. Some pieces were so specific, like the rear windowpanes, the only option was to trust the capable hands of our mechanics and fabricate them in-house. The completely restored operational power antennae, one of Louise's most unique features, is so rare for this model, it's believed there are maybe half a dozen in existence.

The Portrait of Louise is finally coming together. Watch the latest episode and witness the transformation of this beautiful 1960 Porsche 356.
Phase 9
In his own words, Vaughn Wyant tells us the story of Louise and what sets her transformation apart.
Get in Touch
Note on data processing Agree Settings Our website provides content from Google maps. To see this content, you have to consent to the data processing by Google maps.
306.986.7000
General Request
Make a service appointment
Make a sales appointment
Request a Test Drive
Get a Quote
Get Directions
Address
1-335 Brand Road, Saskatoon, SK S7J 5L6
Showroom
1-335 Brand Road
Saskatoon
SK S7J 5L6
Canada
porsche@wyantgroup.com
Phone
Opening Hours
Showroom
Services & Parts