Porsche Centre Vancouver's FAQ
Have a question about Dilawri BC's Porsche Centre Vancouver? We got the answers here.
You may also contact us by completing the inquiry form below and a representative will be in touch with you.
Our website provides content from Google maps. To see this content, you have to consent to the data processing by Google maps
General & Sales
---
Can I trade in my current vehicle, even if I still have a balance owing?
Yes, we can appraise your current vehicle and give you options on how we can pay out the balance. You can then lease or finance a new vehicle.
Can I buy a vehicle without stepping foot in the dealership?
Yes, with Dilawri Anywhere you can shop on our website and we can work with you on a deal online or over the phone. We can also deliver the vehicle to you and complete the paperwork at the time of delivery.
Can you deliver a vehicle to me?
Yes, we can arrange delivery of your vehicle when it is most convenient for you. We can work with you even if you are from out of town!
Can you find me a vehicle that is not on your lot?
Yes, if you can't find the vehicle you are looking for, we will work closely with you to find it.
My credit is not the greatest, do you have options for me?
Yes, with our Second Chance Financing we have programs available for all credit score options.
How can I learn more about my vehicle?
Browse our new inventory and find the model you want to learn more about! Still not sure? We'd love to help! Give us a call or drop by for a demo.
How do I get my vehicle appraised?
You can contact us or drop by with your vehicle, and we can let you know the appraised value.
Can I sell you my vehicle without buying from Porsche Centre Vancouver?
Yes you can, through our We Buy Cars program you can sell us your car hassle-free.
What should I look for when I test drive a car?
When you test drive a new or pre-owned vehicle, consider these tips to help you get the most out of your experience.



Comfort – Consider not only the interior of the vehicle but also the comfort of the drive.


Features – Look out for the added features that come with the car and make sure it has the essentials that fit your lifestyle.


Brake and Park – In a safe area test the stopping power of the vehicle. Let your passengers know beforehand so they can brace themselves. Test the vehicle in different parking scenarios to see potential blind spots you could face on a day-to-day basis and to get different perspectives on the vehicle's angles.


General Driving Experience – Take time to feel how the car performs on the road. Is it comfortable for your driving style? Make a few left and right turns to see how the car reacts. It is also important to take your time and enjoy the experience.


Is there a day of the month that's best for purchasing a new car?
While an ideal time to buy varies on factors like the model of interest, your budget, and vehicle availability, we might recommend stopping by during a weekday since weekends tend to be a busy time for car shoppers. We also encourage you to check in to see when new models arrive at our dealership and stay up to date about deals and incentives that might work to create an ideal buying time for you.
Parts & Services
---
What kind of services do you offer at Porsche Centre Vancouver?
We are proud to offer a range of maintenance services like fluid inspections, oil changes, tire rotations, and brake checks. Our collision center is also equipped to service your vehicle in the event of a minor or serious traffic accident. You can always expect attentive and prompt service from our factory certified technicians.
Do you offer express service?
Yes, if you're in need of a quick check or procedure, we encourage you to take advantage of our express service. Whether you need an oil change or multi-point inspection, we can take care of it for you quickly and accurately. Schedule your next service appointment online or by giving us a call at (604) 736-7911.
Do I have to use the manufacturer's original equipment parts to keep my warranty valid?
Legally, automakers cannot specify which parts are used to complete your vehicle's service. You may use any brand-name quality parts such as CARQUEST Auto Parts to replace fan belts, hoses, brakes, exhaust or chassis parts, and more.
What do I have to do to keep my car or truck warranty in effect?
Make sure your vehicle is serviced at the intervals specified in your owner's manual or warranty booklet and keep clear records of your vehicle's maintenance. Be sure to include the date, parts installed, vehicle identification number, and mileage recorded on the invoice. Keep your receipts in a safe place. If you have a service log in your owner's manual or warranty booklet, we highly recommend that you use it.
My car is a leased vehicle. Am I responsible for maintenance?
When you're leasing a vehicle, you are responsible for all maintenance and repairs required to keep the vehicle in good working order as outlined in the owner's manual.
What parts should be replaced and at what intervals should these services be performed?
Check your owner's manual as it will give you all of the information you need regarding specific parts and service intervals. Make sure to read it thoroughly and note any exceptions or severe service notations. Warranties are there to protect the consumer, but you must follow the requirements.
If I do have a warranty related problem with a dealership, what rights do I have?
If you have a warranty related problem, we suggest that you contact the service department at Porsche Centre Vancouver and ask for assistance. They strive for 100% customer satisfaction and are the best people to help with these types of concerns.
What type of oil do I need?
There are a few different types of oil. The best way to check to see what oil your vehicle uses is to read the owner's manual. This will tell you whether your vehicle uses synthetic or conventional oil. Conventional oil wears out sooner and needs to be changed more frequently than synthetic oil, so be sure to know the distinction.
Between oil changes, we recommend that you check the oil level on your dipstick at every other fuel stop. Your engine may consume oil more frequently than the recommended oil change intervals, depending on your driving style and other conditions. Check the level and top it off if it's low. It's good practice to check vehicle fluids to help ensure your vehicle performs safely.
Our technicians are always ready to service your vehicle. Schedule your service now.
What type of oil filter do I need?
The type of filter that your vehicle needs depends on the type of oil that it needs. Conventional oil needs to be changed about every 3,000 miles and only requires a conventional filter. Synthetic oil, on the other hand, lasts much longer. It can last anywhere between 6,000 and 12,000 miles and doesn't need a special or different oil filter; however, you should always check your owner's manual just to be sure.
What happens when I don't change my oil?
Oil is the lubricant that keeps your vehicle running. If you choose not to change your oil then it will completely break down and leave a sludge in your vehicle's engine. This will wear your engine over time and cause it to break down much sooner.
How often should I get an oil change?
The typical frequency that a driver should get an oil change is every 3,000 to 7,000 miles or every three months. All cars can differ however, so you can always refer to your owner's manual which covers the recommended oil change interval for your specific make and model. Many of today's newer vehicles will actually tell you when they are due for service with a service symbol or alert on your dashboard or centre console. Remember, an oil change is essential because it acts as a lubricant for the internal cogs and gears under the hood. Without it, oil can turn into sludge and prohibit your vehicle from operating correctly.
Do I really need winter tires?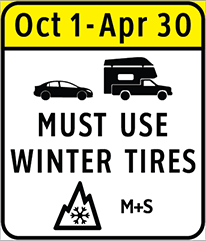 B.C. winter driving requirements.
Yes, winter tires are mandatory on British Columbia highways during the winter months. Winter tires provide better traction in slippery conditions which can help keep you and your vehicle safe.



When you install your winter tires at a Dilawri Group dealership, you will receive the best price guarantee, road hazard replacement, and roadside assistance. Learn more about winter tires here, or order your tires at a tire centre nearest you.
What's the point of a tire rotation?
This causes the wear on your tires to be redistributed to other parts, which will extend the life of your tires. If you don't rotate your tires then the wear on them will be centralized to one spot, forcing it to be replaced sooner. With centralized wear, your tires may even pop sooner so be sure to get them rotated!
Why does my vehicle need a coolant flush?
Your coolant is what helps keep your vehicle from overheating. It, just like your vehicle's oil, can break down and cause sludge. This wears down your vehicle and could cause it to overheat. A coolant flush allows you to get rid of all of that broken down coolant and replace it with clean coolant. It also allows you to clean out a bit of that broken down coolant, preventing it from causing further damage to your engine.
How often should I check my vehicle's fluid levels?
Aside from engine oil, there are many other fluids that are vital to the health of your vehicle. Some examples include the transmission fluid, brake fluid, engine coolant, and power-steering fluid. Their levels are not only affected by how frequently you drive, but extreme temperatures as well. As such, specialists advise checking them at the same time as your oil change or every month or two.
How often should I change my air filter?
Typically, there are two filters in a vehicle. One is for the engine and the other is for the cabin. A dirty filter can prevent airflow, limiting the engine's ability to expend hot air and inhibiting clean air to pass through. How often you need to change it varies, though the conventional timeframe is about 30,000 miles, which is why the best way to determine that it needs a replacement is to check it periodically. Fortunately, replacing a filter is a quick and easy process.
How often should I have my brakes checked?
It is important to have your brakes checked often. Most folks have their brakes checked when they have their tires rotated. One of the technicians at our service center can check the thickness of your brake pads to ensure that they are running at peak conditions. Your brake pads are essential for maintaining stopping power, so be sure to have them checked every chance that you get.
When should I replace my brake pads?
On average, brake pads begin to wear out around the 20,000 to 30,000-mile mark, but there are many factors that may impact this figure. Knowing what signs to look out for will therefore prove instrumental in detecting when your brake pads need to be replaced. If you feel your vehicle is taking longer to come to a stop or notice a high-pitch screeching or grinding noise when braking, scheduling a checkup is vital. Running with worn brake pads will eventually affect the rotors, which can be a costly repair, so taking a proactive approach will not only keep you safe but can save you money as well.
When should I replace my car battery?
The standard battery is projected to last three to five years, but variables like hot and cold weather can influence its longevity, so it is best to keep an eye out for signs your battery power is declining. If your headlights and dashboard lights are starting to dim or if your vehicle has difficulty starting, these are clues that your vehicle may be due for a battery replacement.
How much air pressure should I put into my tires?
The amount of pressure a tire requires depends on its type and the vehicle. You can find out the optimum air pressure either printed on the door jamb, the side-wall of the tires, or in your owner's manual. Too much pressure can make it difficult for you to maneuver your vehicle while too little pressure can result in a blow-out. You can always speak with a product expert to determine what pressure levels are most appropriate.
Finance
---
Is leasing a car a good idea?
There are many unique benefits to leasing a vehicle that you might not receive with other financing options. For example lower payments, maintenance provisions, and not having to trade or sell an old car or truck. For even more details on the benefits of auto leasing, our vehicle finance department is available to answer all of your questions.
Can I lease a used car?
Yes, you can! It's a little less common than leasing a new car, but with Dilawri Leasing, we can provide you with some more cost-effective options. Leasing a used vehicle is strikingly similar to leasing a new one; both give you temporary ownership of a car for a set amount of time and money.
Can I buy the leased vehicle?
There are options to purchase your leased vehicle prior to the completion of the contract. For this you would speak with our Sales & Leasing Executives who can take care of any early termination fees that may apply.
Can I get a deposit back from car leasing?
Typically a deposit is refundable at the conclusion of a lease, assuming that all the leasing contract obligations have been met. Please note that a deposit/security deposit is not the same thing as a down payment, as down payments are non-refundable. However, you should always read your lease agreement carefully and ask as many questions as you can before you sign on the dotted line, as some leases also require non-refundable deposits.
What kind of financing services do you offer?
Learn about our financing solutions by contacting our team via our Finance Request form. You can fill out our online form if you have general questions, and an expert member of our Sales team will get back to you. You may also call us at (604) 736-7911, or stop by in person.
How can I find out the value of my vehicle trade-in?
Our team is here to provide an assessment of your vehicle trade-in value. If you're curious and want a quick quote before meeting with a financing team member, use our online trade-in value tool.
Can you explain the difference between buying, leasing and financing a vehicle?
When you buy a car, there are no monthly payments if you paid for your car in full. The car is yours to modify, sell, or trade in whenever you like.
When you lease a car, you will be making monthly payments to the dealership, and the car must be returned in sellable condition to the dealership at the end of the lease agreement term. There is a mileage limit per year, and you must pay a penalty for any additional mileage driven. If you want to return your car before the end of the term, the remaining balance on the lease must be paid. There is also sometimes an option to renew your lease agreement if you wish.
When you finance a car, the vehicle is yours at the end of the finance term once you've made all your monthly payments to the dealership. You may modify the car and have no mileage limits. The vehicle is yours and does not need to be returned.
Still have questions? Talk to us about your options and we'll give you the information you need to make an informed decision.
What are the pros and cons of leasing and financing?
The advantage of leasing a car is that you don't have to worry about the resale or trade-in value at the end of the lease - you can just drop off the car at the dealership. Leases may include pre-paid maintenance, such as free oil changes or tire rotations. With a lease contract, you can drive a vehicle with top-of-the-line features that otherwise may have been out of your price range. However, disadvantages of a lease is that you have to make continuous monthly payments, and you must return the car in good condition or you'll have to pay a penalty.
The advantage of financing a car is that at the end of the contract, you own the car for as long as you want it and can sell or trade at any time. In the long term, financing is a more cost-efficient option because at the end of the loan term, you will have equity to help pay for your next car. The disadvantage is that finance payments usually cost more than lease payments. As the vehicle depreciates, it will be harder to sell your car.