Week Seven: Tim in a Taycan

Note: To prove that the best luxury EV on the market can handle everything that winter can throw at it, our sister store Porsche Centre Edmonton sent Tim Ricci, an Internationally Certified Canadian Mountain Guide—who spends his winters travelling and guiding throughout Western Canada's Mountains—on a series of adventures across the Canadian Rockies in the 2021 Porsche Taycan.

In the Canadian Rockies, Spring just might be the most magical time of year. It's not uncommon to ski in the morning, then spend the afternoon ripping up one of our many world-class climbing crags. For Tim Ricci's seventh week with the all-new electric Porsche Taycan, he was finally able to enjoy Spring in all its glory: his first climbing days of the year, followed by three amazing days out of the Bow Hut on the Wapta Icefields in Banff National Park skiing some of the finest powder Canada has to offer.

"I have been to the Bow Hut several times, but what made this trip unique was that I had the opportunity to bring my daughter to work with me," Tim said.

He was guiding a long-time client, who just happened to bring his daughter along. So, Tim thought, why don't I bring my own daughter and then the four of us could have an incredible weekend together in this amazing venue?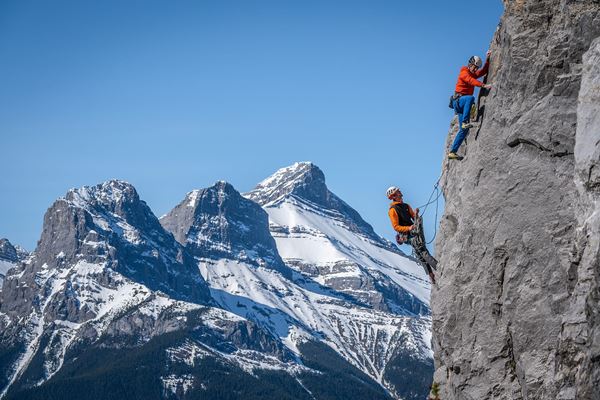 All Taycan, All the Time
After nearly two months driving the Taycan all over Alberta and BC, in some of the worst weather a Canadian winter has to offer, Tim is officially free of all reservations. He had no doubt that the Taycan could not only make the trip to the Wapta Icefields but make it an effortless journey.
As he did once before, he left the Taycan parked at the base of the mountain for three straight days. Once again, it was not an issue. Not only that, but he was able to fit his gear, his daughter's gear, and his clients' gear in the vehicle, no problem.
The chance to share the mountains with his daughter is never lost on Tim. Growing up in Toronto, he had no idea a world like the Rockies really even existed for normal people. So, to see his daughter, who's 14, and his client's daughter, who's 16, cruising through three long days up on the Icefields, Tim could not have been happier, for them or for him.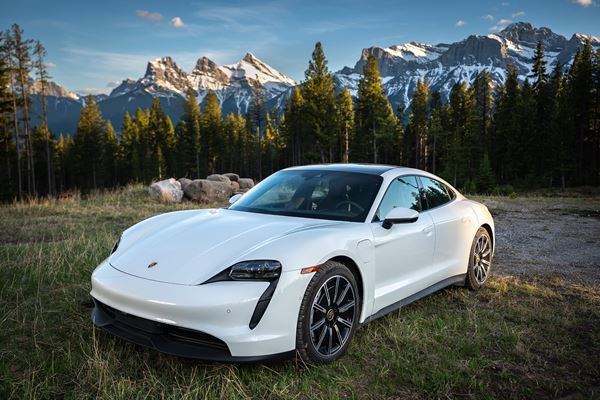 The Highlight of the Year
"We summited two peaks in our time up there. Conditions were about as good as it gets for that part of the world. I couldn't have asked for anything better. The highlight of my year so far."
On the third day, they skied back to the vehicles and across Bow Lake for likely the last time this season. Upon returning to the Taycan, as expected, they had lost absolutely no battery charge (again, after leaving it outside, in the freezing cold, for three straight nights).
"Our carbon footprint was minimal, since we drove in an EV, and were self-propelled back country ski touring for the whole trip. Such a unique way to travel and share the experience with your children and have them understand what it means to be aware of their own carbon footprint, while spending time in an area greatly effected by climate change."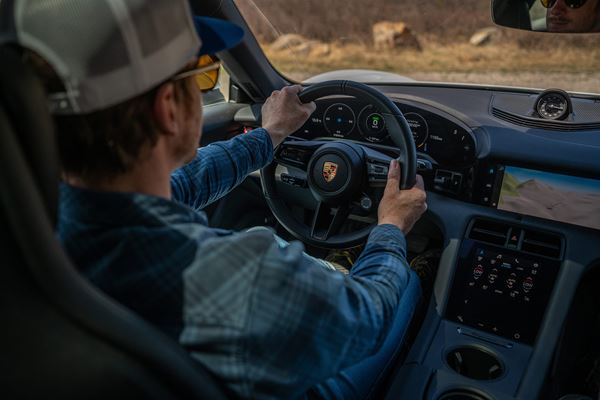 About Tim Ricci
Tim moved to the mountains over 20 years ago and has not looked back since. Tim is a fully certified Mountain Guide and holds Canadian Avalanche Association Level 3 and Society of Professional Rope Access Technicians (SPRAT) Level 3 certifications. Since September 2018 Tim has worked as Yamnuska Mountain Adventures Assistant Director of Operations. Located in Canmore, Alberta at the Banff National Park gates, Yamnuska is a premier provider of mountaineering, ice climbing, rock climbing, backcountry skiing, avalanche training and trekking experiences in the Canadian Rockies for over 40 years. Tim Resides in Canmore, AB, where he lives with his wife Wanessa and two kids, Ella and Miles.