Week Three: Tim in a Taycan

Note: To prove that the best luxury EV on the market can handle everything that winter can throw at it, our sister store Porsche Centre Edmonton sent Tim Ricci, an Internationally Certified Canadian Mountain Guide—who spends his winters travelling and guiding throughout Western Canada's Mountains—on a series of adventures across the Canadian Rockies in the 2021 Porsche Taycan.

If Week 1 was about Tim getting his feet wet and learning to trust the Porsche Taycan, and Week 2 was about Tim learning to push the Taycan, then Week 3 was about Tim becoming a full-on convert.

"I haven't been to a gas station in 3 weeks," Tim said, with sense of relief. "With the charger installed at my house, the simplicity of the Taycan … driving an EV [electric vehicle] is already feeling like a natural progression and one I do not foresee going back on."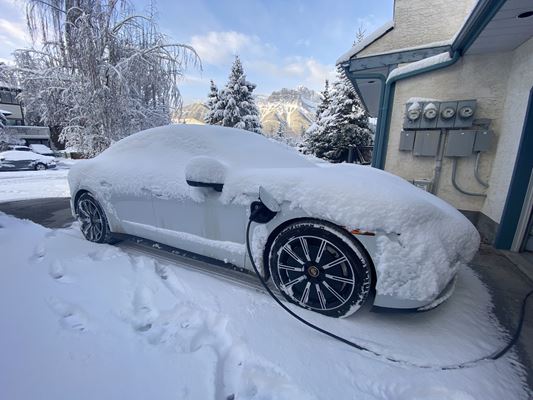 So why is that?
According to Tim, it's the fact that he can use the Taycan as both a daily commuter and a weekend warrior mobile. It's survived everything the harsh winters in the Rockies have thrown at it. Not just survived but thrived.
Let's see how it fared in Week 3.
Week Three: Into the Backcountry
West Nile Glades
Adventure DistanceTime Spent ChargingCost of Charging
225 KM 0 min $0
Tim met up with a keen group of backcountry skiers and headed towards highway 93. Their objective for the day was to ski West Nile Glades under Bow Peak (a great spot if you're looking for a short approach, some yo-yo'ing, or playful terrain).
The night before they had gotten nearly 20cm of new snow at higher elevations, which, on the one hand, meant the skiing would be epic, but, on the other, the driving it would take to just get there would once again be a challenge.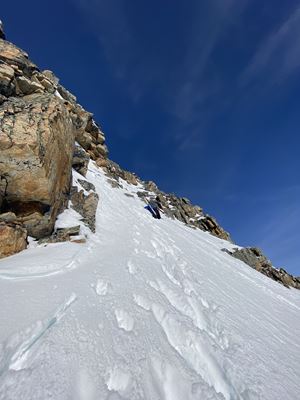 "I have to say, the charging at home really does eliminate the need to worry about range for anything local I am committing to," Tim said."Keep in mind that local, for me, is more than a typical city commute. My daily journey takes me from Canmore to anywhere in Banff National Park, into Kananaskis Country, and even to Calgary and back once and a while."
In three weeks, Tim hasn't had to worry about the range of Taycan even one time. Imagine the simplicity of just plugging in a vehicle at your house and walking away each day knowing you can rely on it for all the things you need the next day, no matter what you're doing (unless you're going on a long trek).
The charging was easy, the day delivered some amazing skiing, and another winter wonderland to enjoy in the Rockies. Given everything else that's been happening in the world, the outdoor activities in 2021 have been at an all-time high.
Interested in Test Driving the 2021 Taycan?
About Tim Ricci
Tim moved to the mountains over 20 years ago and has not looked back since. Tim is a fully certified Mountain Guide and holds Canadian Avalanche Association Level 3 and Society of Professional Rope Access Technicians (SPRAT) Level 3 certifications. Since September 2018 Tim has worked as Yamnuska Mountain Adventures Assistant Director of Operations. Located in Canmore, Alberta at the Banff National Park gates, Yamnuska is a premier provider of mountaineering, ice climbing, rock climbing, backcountry skiing, avalanche training and trekking experiences in the Canadian Rockies for over 40 years. Tim Resides in Canmore, AB, where he lives with his wife Wanessa and two kids, Ella and Miles.